Alcohol and entertainment licensing: Newmarket Cumulative Impact Assessment
The Newmarket Cumulative Impact Assessment renewal consultation will run until 11.59pm, 5 July 2021.
What is a Cumulative Impact Assessment (CIA) area?
Cumulative impact assessment areas are areas of town centres where the combined effects of a significant number of licensed premises concentrated in one area is likely to undermine the licensing objectives of:
reducing crime and disorder
the prevention of public nuisance
the protection of children from harm, and/or
promoting public safety
What does a Cumulative Impact Assessment do?
A Cumulative Impact Assessment (CIA) allows for a 'rebuttable presumption'. In other words, applications for the grant or variation of premises licenses or club premises certificates that are likely to add to the existing cumulative impact will normally be refused or subject to certain limitations.
However, if the applicant can demonstrate in the operating schedule that there will be no negative cumulative impact on one or more of the licensing objectives, then the licence or variation sought is likely to be granted.
Newmarket Cumulative Impact Assessment
The current Cumulative Impact Assessment (CIA) covering key areas of Newmarket town centre was was designated in 2008 and re-adopted in 2011, 2016 and 2018. Please note: the three-year statutory requirement to review a CIA came into effect from 2018 it was previously five years.
The area covered by the CIA is shown below.
Why we are consulting
Cumulative impact policies were introduced as a tool for licensing authorities to manage the growth of licensed premises in an area where the number, type and density of premises selling alcohol could lead to nuisance and disorder.
On 6 April 2018 section 5A of the Licensing Act 2003 came into force. This permits a licensing authority to publish a 'Cumulative Impact Assessment' stating that the authority considers that granting more premises licenses and club premises certificates in one or more areas would have a negative impact on the area.
The major legislative change is the need for not only a full consultation to implement the CIA, but a new requirement to review it every three years (commencing with its publication or revision), including a full consultation.
The council must review the Newmarket CIA by the end of 2021 in consultation with stakeholders and residents. If the decision is not taken to renew, the CIA will be automatically removed.
Adopted Newmarket Cumulative Impact Assessment (expires December 2021)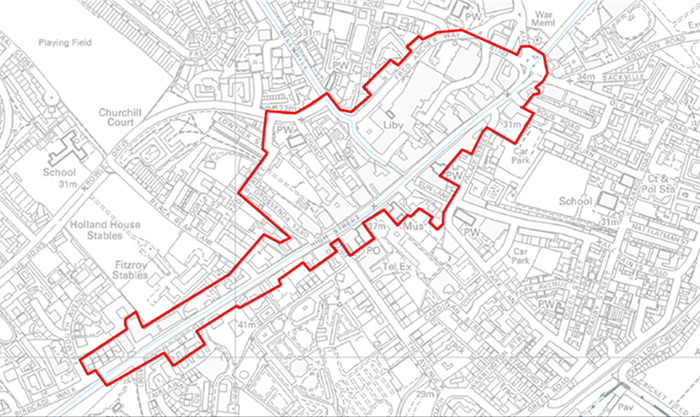 Have your say in the Newmarket Cumulative Impact Assessment renewal consultation (closes 11.59pm 5 July 2021).