Case study 7 - Toggam Solar Farm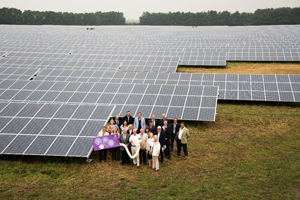 Toggam Solar Farm
In a quiet field on the edges of Suffolk, more than 47,000 solar panels are silently generating electricity and income to invest in the future of everyday services for our communities in Forest Heath.
Forest Heath District Council bought the solar farm in July 2016 as part of its long term investment strategy. With removal of the revenue support grant and depressed high street equity investment rates, we have had to get creative and develop our commercial approach.
The solar farm will mean that even after Forest Heath's capital outlay of £14.2m has been recouped, based on current assumptions, the council will still generate an additional income of at least £300,000 in the first year eventually rising to just over £700,000 per annum by around year 10 (of the 25 year project) through selling on generated electricity and claiming renewable energy incentive payments, known as ROCs.
The generated electricity will be enough to power 3,000 homes and offset carbon dioxide emissions equivalent to 2,000 cars.
In the future, as part of our Community Energy Plan, the solar farm could provide energy to our offices and leisure centres, helping us and our partners to save money on energy costs on top of the income it will bring in.