Now let's work together for an economic legacy we can all be proud of
07 Nov 2016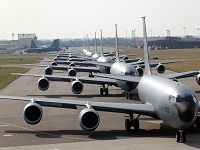 The Ministry of Defence has announced today that following a strategic review of its estate, it will not require RAF Mildenhall for a British military use after the USVF depart in 2023.
The MoD, which owns the site, announced back in January that part of the site will be released for housing. It had also been considering whether it wanted to retain part of the site for British military use but today confirmed that is not the case stating that 'No UK reprovision is required.'
Today's announcement comes just a month after a public consultation in Forest Heath designed to influence Government decisions on the future use of the site.
Cllr James Waters, leader of Forest Heath District Council, said: "It is fast approaching two years since the United States Department for Defense announced its intention to relocate its operations away from RAF Mildenhall.
"I welcome the clarity and the opportunity that today's announcement brings. We have been preparing for this. We have worked with our communities to identify the challenges ahead as well as their ambitions for the site.
"We have then had those ideas independently market tested to understand what is deliverable and equally what is not. There are some tough realities within that assessment. We have all heard the calls for a passenger or cargo airport and those calls continue - but there is little point chasing a dream if it is never going to happen and that is the reality of this market assessment.
"We do have a vision for the site that creates new jobs, provides land for new industry coupled with housing and aviation use centred around maintenance, repair and overhaul, a fantastic way to bring new employment to the area and retain use of the runway and other aviation infrastructure on site.
"Today's announcement is the next step towards understanding how the regeneration of RAF Mildenhall will take place. It provides the opportunity to take the work of the Council and its partners and to say to the Government and the MoD, let's work together to deliver new jobs for our local communities, increase local skills, let's make sure that we get the right level of investment in new roads, new schools, health and other infrastructure needed to make this work. 
"Now let's work together to achieve an economic legacy for the site that we can all be proud of."
---