Next steps towards preparation of Bury town centre masterplan
22 Nov 2016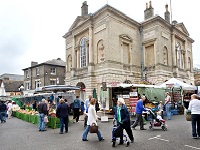 The next steps towards the preparation of a Bury St Edmunds town centre masterplan, has seen the working group appoint a firm of urban design and town planning specialists.
The Bury St Edmunds Town Centre Working Group, including representatives of Our Bury St Edmunds Business Improvement District, the Bury Chamber of Commerce, Bury Market Liaison Group, the Bury Society, the Bury Town Trust, Bury Town Council, St Edmundsbury Borough Council and Suffolk County Council, have appointed David Lock Associates and Peter Brett Associates to work on the project.
The first stage of work will see them prepare an issues and options report, which will highlight what the challenges are both now and for the future of the town, plus how some of these might be addressed. That will then go out to public consultation in the spring before forming a more detailed vision for the town centre which will go out to consultation in the summer.
Simon Burton, director at Barker Storey Matthews and Suffolk Chamber's representative on the working group said: "We know that we have a great and thriving town centre, although like anywhere it is not without its challenges to be addressed. The arc, a bold decision at the time it was made, has been a huge success, while the town's heritage, events, restaurants and café culture, and The Apex, all play a major part in attracting visitors and ensuring the vibrancy of the town centre. The specialists that we have appointed have vast experience on achieving successful town centre schemes elsewhere and we very much look forward to working with them."
John Popham for the Bury Town Trust and Richard Summers for the Bury Society said: "Bury St Edmunds town centre is a great success but we must not rest on our laurels. Shopping patterns are changing and new homes are being built to meet demand. We want the town centre to be conserved and enhanced to cater for local people and for visitors to support the local economy. We care about the past and present of Bury St Edmunds and we know that changes will be needed to meet the future."
Matthew Lappin from David Lock Associates said: "We are delighted to have been appointed to work with the partners and the community on this project. Bury St Edmunds has a history to be celebrated, a fantastic mix of independent and big name shops and a thriving market – all of which has seen it receive national recognition. The work that we will undertake now in partnership with the communities that live, work and visit the town centre, is about identifying and ironing out the faults, anticipating some of the challenges to our high streets that lie ahead and working to ensure the successful future of the town.
"We and the members of the Working Group, recognise that there is a fine balance between retail, leisure and cultural activities and we all want to ensure that Bury continues to be successful, attractive and accessible for everyone.  We will be asking local communities, stakeholders, and the Working Group to collaborate with us in co-producing the masterplan. Key to all of this will be the two stages of public consultation and engagement, the first of which will be in the spring."
---