Days left to help shape future of town centre
19 Apr 2017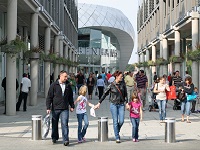 There are just a few days left for residents, workers, shoppers and visitors to give their insight and help shape the future of Bury St Edmunds town centre.
We are now in the final week of an eight week public engagement campaign to check what people like and dislike about the town centre.
The town centre issues and options report looks at the challenges facing Bury St Edmunds town centre not just now but over the next decade and beyond. These challenges include how the town centre can accommodate future growth in retail, residential, business and leisure activities, find sites for potential redevelopment, make the most of the café and restaurant culture and encourage visitors to stay for longer.
The report and a questionnaire survey also look at how we can enhance the character of Bury St Edmunds, enable people to enjoy its heritage, integrate the town centre better with the redevelopment around the railway station, cater for the various community and housing needs, and improve transport and car parking in and around the town centre to help relieve congestion.
Options for achieving the suggested objectives for the town centre include making the streets more attractive, creating a more welcoming pedestrian environment, improving accessibility for people of all abilities, encouraging more walking and cycling and increasing tree planting to enhance the environment.
Over the last seven weeks, the Borough Council has been actively trying to engage people through events at the market, the leisure centre, the supermarkets and The Apex. The Bury Society and Churchgate Area Association hosted an open meeting at The Athenaeum, while the Moreton Hall Residents Association held a meeting to discuss the consultation last week.
Richard Summers from the Bury Society said: "Don't miss this opportunity to have your say. We all see the town centre through our own individual personal experiences and so everyone has a unique and important viewpoint on how they would like it to be in the future. So it is really important that everyone grasps this opportunity to say what they like and don't like and to express their ideas for future conservation and development to improve this exceptionally attractive town centre. Everyone's views will be considered for the next stage of this project when the Draft Town Centre Masterplan will be prepared."
The deadline for responses is shortly before midnight this Friday 21 April. Copies of the questionnaires are available at The Apex, The Library, The Leisure Centre, West Suffolk College and West Suffolk House. You can also take part online at www.westsuffolk.gov.uk/bsemasterplan
The Bury St Edmunds Town Centre Masterplan is supported by a working group comprising representatives of OurBuryStEdmunds Business Improvement District, the Suffolk Chamber in Bury St Edmunds, Bury St Edmunds market traders, The Bury Society, the Bury St Edmunds Town Trust, Bury St Edmunds Town Council, St Edmundsbury Borough Council and Suffolk County Council, working alongside urban design and town planning specialists David Lock Associates and Peter Brett Associates.
---