Tribute to long standing councillor Bill Sadler
16 May 2017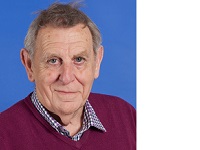 It is with great sadness that we announce the death of one of our long serving councillors, Cllr Bill Sadler.
Cllr Sadler, who was first elected to the District Council in 1976, represented St Mary's ward in Newmarket where he served as an independent.
A minutes silence will be held at tonight's Cabinet meeting in memory of Cllr Sadler and again at the next meeting of the full council in June.
The Leader of Forest Heath District Council, Cllr James Waters said: "We are all shocked to lose such a dear friend and much respected colleague. Cllr Sadler has represented communities in the area, since when I was just a boy. All of us at Forest Heath hold our own fond memories of our time working alongside him. Our deepest sympathies go out to his family at this sad time."
During his long and distinguished career in local politics, Cllr Sadler had served as the last chairman of the old Newmarket Urban District Council in 1973/74 before being elected to Forest Heath District Council in May 1976.
In 1980/81 he served as chairman of the Council but in May 1983 his term on the Council ended signalling a 15-year absence. In 1998, a by-election following the resignation of Cllr Shirley Crickmere saw Cllr Sadler re-elected to the Council, and having served as chairman on several committees, he once again became chairman of the Council in 2001/02.
Cllr Sadler continued to serve on the Council until 2007, but was again re-elected in May 2011. Cllr Sadler, who was also a Newmarket Town Councillor, continued to serve on both Councils up until his death.
---