Love Your Local Market in Bury St Edmunds and Haverhill
16 May 2017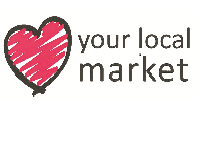 There are even more reasons to Love Your Local Market with schools working alongside St Edmundsbury Borough Council on a number of new attractions.
Love Your Local Market fortnight (17-31 May) begins this week and St Edmundsbury Borough Council, who run the markets in Bury St Edmunds and Haverhill, is keen that even more people discover the benefits of shopping and trading on the markets.
In Haverhill, we will be holding a Community Market on 20 May in partnership with Castle Manor Academy.  Students from the academy have been busy making a range of products which will be on sale at stalls on the Market Square from 9am to 3pm. Year 10 students have helped plan and design publicity for the event as well as mentoring students from years 7 to 9 to run the market stalls.
The event, which has a food and farming theme will feature stalls from other schools and charity groups as well as a mini farm and children's activities.
The day aims to engage young people and families in the social aspect of the market, creating a happy healthy community.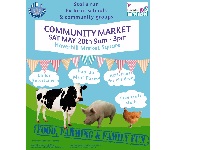 Castle Manor teacher Becky Baldwin said: "It has been great to be working alongside SEBC to plan the Community Market for Haverhill families. As a school we are keen to teach our students life skills and they have been learning about the role of the Market coordinator, what a day on the market looks like, how to purchase, display stock and all about profits margins. My students have been working as a team. They have designed the poster and are hoping to raise money to fund a trip, which they will also plan themselves. Our aim is to share our skills with the community and bring families together."
Meanwhile in Bury St Edmunds, St Edmundsbury has been working with St Benedict's Catholic School to organise a market themed community puppet parade. The parade will go from Angel Hill to the arc at 2pm. There will also be free flag making workshops from 10am to 1pm on the day plus on the 24 May from 10am to 3.30pm with the idea that people will come along and wave their flags as they cheer on the parade.
Clare Chacksfield, Head of Art at the school, said: "We are really pleased as a school to have so many students working together to celebrate our local market place. Our year 8 students are learning more about working as young leaders and are able to collaborate with local artists like Lou Gridley who are helping them develop professional, practical and life based skills. Great fun and good applied learning too."
On top of this local schools will also be on our market in Bury St Edmunds on Wednesday 24 and 31 May, running stalls selling arts and crafts.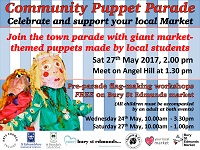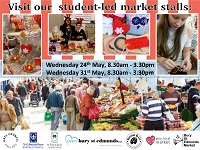 The Council has more than 80 permanent stallholders with markets in Bury St Edmunds every Wednesday and Saturday and in Haverhill every Friday and Saturday.
---