First winter festival in Clare as countdown to Christmas begins
13 Nov 2017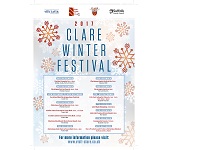 The first Clare Winter Festival will launch in spectacular style later this month as the community comes together to celebrate the countdown to Christmas.
The festival from 24 November to 16 December builds on the success of last year's Clare Christmas Fair and promises three weeks of activities to excite all ages.
Santa Claus and the Snow Queen will both be joining the opening night celebrations which will also feature a children's parade, carol singing and a mini beer festival. There will also be music from a brass band, performances by the Morris Men of Little Egypt, karaoke and a chance for children to visit Santa's Grotto, while visitors will be able to warm themselves with a glass of mulled wine or hot chocolate and tuck into some delicious hot food. The evening, which runs from 5pm to 8pm on 24 November, takes place outside The Cock Inn and The Globe and has been organised by both pubs in conjunction with Clare Community Association. Entry is free.
The opening night also sees the start of a two day Christmas Fair at St Peter and St Paul's Church. Fair goers will be welcomed with a complimentary drink to enjoy while they browse the stalls which will be selling gift ideas including toys, jewellery, chocolate, dolls, collectable teddies ceramics, and artwork. There will also be stalls selling cards, Christmas wreaths, candles, decorative and stained glass, cheeses and the Clare festive puddings range including luxury chocolate and sticky toffee sauce. The fair runs from 5-8pm on the Friday and from 10am to 4pm on the Saturday. Entry to the fair is free, refreshments will be available while there will also be the chance to win goodies by entering a raffle, with all proceeds go towards maintaining the church building.
Other events that will take place as part of the winter festival include a Christmas Craft Fair and Christmas Lights Switch on 2 December, late night shopping on 7 December and a community carol service on 11 December. The festival will end with the Clare Products and Produce Christmas Market on Market Hill on 16 December from 8.30am to 3.30pm.
The festival has been coordinated by Visit Clare, the town tourism group which consists if representatives of the community association, Clare Business Association, Clare Castle Country Park Trust, Clare Churches Together, the Ancient House Museum, and local councillors.
Cllr Paul Bishop, chairman of Clare Town Council who is part of the Visit Clare group said: "This is the first time that we have held a winter festival and we are excited at what is shaping up to be a fantastic community celebration with events to dazzle people of all ages."
Cllr Alaric Pugh, St Edmundsbury Borough Council's Cabinet Member for Planning and Growth, is also part of the Visit Clare group said: "It may be Suffolk's smallest town but Clare is packed full of beauty and history – what better backdrop for residents and visitors alike to come along and enjoy the countdown to Christmas."
Suffolk County councillor for Clare, Mary Evans who is also involved in the celebrations, said: "With such a packed programme of fun events, we hope people will come along and soak up the atmosphere of this year's wonderful winter festival."
For times and venues for the above events, and details of the other activities that are taking place during the Clare Winter Festival, visit www.visit-clare.co.uk
---