Enjoy yuletide not yuk-tide
12 Dec 2017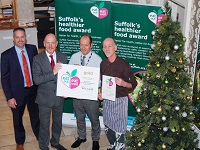 It's the time of year when many of us are preparing for a festive feast with colleagues, friends and Christmas Day dinner with the family – so make sure you enjoy yuletide, not yuk-tide.
Our environmental health team at West Suffolk councils has carried out more than 585 food hygiene inspections at cafes, restaurants, takeaways and other food businesses since January this year, awarding ratings of 0 to 5 stars.
The team also runs the Eat Out, Eat Well scheme in which restaurants, cafes and caterers can be accredited for their use of healthy ingredients and healthier methods of preparation. West Suffolk councils will present its 50th Eat Out, Eat Well award later this month to The Riverside House Hotel in Mildenhall, whose restaurant also holds the top 5 star rating for good food hygiene.  
Cllr Lance Stanbury, Forest Heath District Council's Cabinet member for Planning and Growth said: "Many of us like to get together with work colleagues and friends and enjoy a Christmas meal out - but no one wants to suffer the effects of a nasty bout of food poisoning from cross contaminated foods or undercooked meat. That is why it is so important to look for the scores on the doors before booking your meal.
"Equally it is my belief that people will soon look for the Eat Out, Eat Well symbol. It's a logo that shows that the restaurant or café offers healthy choices and quite literally has the best care of its customers at heart. I am delighted to be presenting this landmark 50th award to The Riverside House Hotel in Mildenhall." 
Research shows that the average person eats out from home for one in six of their meals. At the same time, there is a growing obesity epidemic in the UK, which causes more than 30,000 deaths a year in England alone. Diet plays a major role in heart disease and has also been linked to some cancers.
There are three levels to the Eat Out, Eat Well accreditation. The Riverside House Hotel has achieved the highest level of gold.
Ged Sharrocks, General Manager of The Riverside House Hotel said: "We want everyone who has a meal here to enjoy their food and to have a good experience. Health and hygiene as well as good flavoursome food, is at the heart of what we do here. It is another way that we can demonstrate how we take pride in looking after our customers, so I am delighted that The Riverside House Hotel has been awarded the 50th West Suffolk Eat Out, Eat Well award."
Cllr Stanbury added: "Of course, while our Environmental Health team are busy throughout the year, checking the hygiene and safety at restaurants and cafes, they cannot be everywhere. We want our residents to be able to enjoy a great Christmas at home, and that is why my team has put together some handy tips on how to ensure that the only guests that suffer this Christmas, are in a family game of Cluedo."
Our top tips for hygiene at home are:
When food shopping, ensure that you take enough bags to separate raw meat from ready to eat food.
Make sure that you check the guidance on your meat to give sufficient time for it to defrost – in the case of a large turkey this could take as much as four days in a fridge.
Do not wash raw meat – it splashes germs around.
Make sure to work out the cooking time for your meat. If you are checking a Turkey the meat should be steaming hot, there should be no pink meat when you cut into the thickest part, and juices should run clear.
What you don't eat Christmas Day can be used to make a new meal such as a curry – this can be frozen but should only be reheated once.
---