A splash of colour for town centre street
08 Feb 2018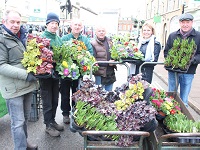 Market traders in Bury St Edmunds have joined forces with Bury in Bloom and St Edmundsbury Borough Council to improve the look of a town centre street.
Seven planters were installed in St Andrews Street South between the arc and The Cornhill last summer.
Since then they have had trees planted in them. Now Bury in Bloom is adding a splash of colour with new plants, supplied at discount by the Bury market traders.
Robin Burnett, Chairman of Bury in Bloom said: "We have a brilliant mix of spring bedding plants which have been supplied by Floral Fayre and Hazelwood Nurseries. They already look lovely but will be in full bloom by April and will make the area look and feel more attractive for shoppers and visitors."  
Market trader Darren Old, said: "The market traders were keen to work with Bury in Bloom and the Council to help enhance this part of the town which bridges the area between the arc and the market place. This represents just one of the ways that traders are working with other organisations to help make our town centre an even more welcoming and friendly place for our local residents and visitors."
Cllr Robert Everitt, Cabinet Member for Families and Communities at St Edmundsbury Borough Council said: "The market traders are very much part of our community. We know that people who got involved in the town centre masterplan last year said they were keen to seen more greenery and that this stretch of St Andrews Street has been identified as needing a significant transformation to better connect the arc shopping area with The Cornhill and Buttermarket. This is but one small step but it is a significant one towards making the area look more attractive and I look forward to more of this partnership in other parts of the town centre."
---