West Suffolk Museum's celebrate Awards wins
11 Oct 2017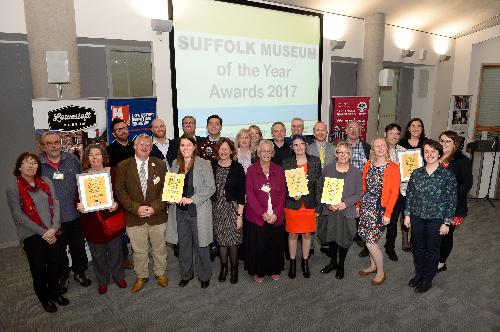 West Suffolk museums have carried off the top awards at a ceremony held at the University of Suffolk to celebrate Suffolk's cultural heritage.
12 museums were shortlisted for the 2017 Suffolk Museum of the Year Family Friendly Award and for overall Museum of the Year.
The National Heritage Centre for Horseracing and Sporting Art in Newmarket at Palace House in Newmarket took the Museum of the Year title, Moyse's Hall Museum in Bury St Edmunds won the Family Friendly Award and West Stow Anglo-Saxon Village took the Learning and Access Award.
Cllr Andy Drummond, Forest Heath District Council Cabinet member for Leisure and Culture said,
'This is a particularly gratifying win for the newly created National Heritage Centre which was also shortlisted for the 2017 national Museum of the Year Award. Its excellence is quietly a source of great local pride and as a visitor destination, it plays an important role in the local economy. I congratulate Director Chris Garibaldi, the museum team and all those volunteers and supporters who have helped establish it as an international player'.
Cllr Jo Rayner, St Edmundsbury Borough Council Cabinet member for Leisure and Culture said,
I am thrilled that the St Edmundsbury Museums service's hard work in engaging schools and families with sensory activities and fun has been recognised. We invest in museums to enrich our community life. They give us a chance to explore where we live and learn new things, which helps health and wellbeing on many levels.  And in turn they contribute to the local economy through tourism and leisure. I congratulate officers and volunteers alike. '
Moyse's Hall's award was based on the feedback and responses of visitors. Not only did it receive the largest number of nominations but also the richest and broadest comments. West Stow Anglo-Saxon Village's Learning and Access Award also reflects a rise in visitor numbers thanks to relationships created with educational and academic organisations, and popular themed trails and school holiday activities
---