Careers advice, guidance and inspiration
There are so many different jobs out there, so visit the websites below to understand what career opportunities there are.
If you run a business, have you thought about what you can do to develop your corporate social responsibility and help to get children inspired about the workplace? Find out more by visiting the websites below.
New Anglia Enterprise Adviser Network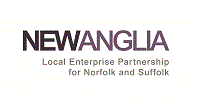 The network aims to increase employer engagements to ensure every student in Norfolk and Suffolk has at least one meaningful encounter with the world of work every year they are at school.
For more information visit New Anglia Enterprise Adviser Network, email Glen Todd at glen.todd@newanglia.co.uk or phone: 07384 113189 or Darian Vomund at darian.vomund@newanglia.co.uk or phone 07713 708409
icanbea...
icanbea... lets you explore potential career opportunities across Norfolk and Suffolk, showing you how the organisations and job roles fit into the wider career paths of our region's industries. Businesses can add their own profile.
For more information visit Icanbea…
Suffolk County Council
Schools robotics pilot project in Newmarket
West Suffolk Council has partnered with the BT Schools Outreach team and Newmarket Schools to deliver a project to using robotics to inspire young students' passion for science, technology, engineering and maths. Please see the press release: Robotic project to create a legacy for STEM skills
Youth Pledge for Employers project
The project has employed Business Connectors to engage with a wide range of small and medium enterprises (SMEs) across the Norfolk and Suffolk, and support them to develop opportunities for young people aged 16 to 24. The opportunities created will be promoted on the Icanbea... website run by The Mason Trust, which helps to inspire young people to take control of their career and will include work inspiration events, such as giving a talk or hosting a virtual tour of a workplace, work experience, work placements, apprenticeships or employment.
If you are an employer looking to find out more or get involved, please contact: lisa.gilson@suffolk.gov.uk
This is a European Social Fund (ESF) funded project, led by Norfolk County Council and delivered in partnership with Suffolk County Council and The Mason Trust until December 2023.
The yojo careers app
The yojo app has been designed by young people, for young people in Suffolk to help find the right career path for you. Whether that is an apprenticeship or traineeship, the app is designed to explore options for you. 
Find out more on the yojo app website