His Majesty King Charles III's Coronation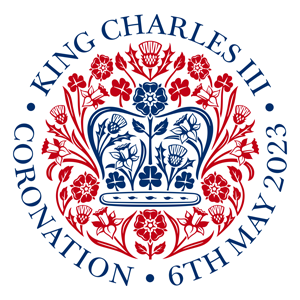 The Coronation ceremony for His Majesty King Charles III will take place on Saturday 6 May 2023 at Westminster Abbey. Town and parish councils and a range of other organisations are supporting communities to come together to celebrate this momentous occasion. If you are running an event or want to know more visit Coronation of His Majesty The King and Her Majesty The Queen Consort for details as well as materials and toolkits.
You can also share your event on an interactive map Coronation of His Majesty The King and Her Majesty The Queen Consort - Put your event on the map
The Coronation will see people across the UK and the Commonwealth come together to celebrate and commemorate the event. This will include:
the procession and service at Westminster Abbey on 6 May
the 'Coronation Big Lunch' across the country on 7 May (with a concert taking place in Windsor in the evening), and
'The Big Help Out' community activity on the bank holiday, Monday 8 May.
Street parties
Street parties are being encouraged across the UK. Guidance for residents on how to organise a street party can be found at: GOV.UK - Your guide to organising a street party
Guidance is also available on Street Party - Street Meet: a street party without closing your road which offers an even easier way to bring neighbours together.
The Coronation Big Lunch
The Coronation Big Lunch, on 7 May, will encourage communities to come together, celebrate their connections and get to know each other better. It will bring the Coronation festivities into the heart of every community. More detail on getting involved is available on the Coronation Big Lunch website: Eden Project communities - The Big Lunch
Licences to sell alcohol
Most events will be sharing their drinks but if you do want to sell alcohol, please apply for a Temporary Event Notice.
The Big Help Out
The Big Help Out, on 8 May, will provide an opportunity to reflect on the legacy of His Majesty's service and showcase the impact of volunteering within communities. People across the UK will be able to get involved and more detail is available on The Big Help Out website. 
Locality Budget funding
Funding is available through your ward councillor's Locality Budget for organisations holding events. Please talk to your local councillor about this. Funding must be allocated by the 22 March for these celebrations as, due to elections, that money cannot be rolled forward. You can find your local councillor at Find my nearest: My West Suffolk or democracy.westsuffolk - Your Councillors