Creating safer places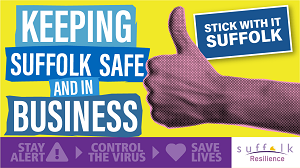 Highways changes and signage supported by:



Creating safer places for people and businesses is important to help reduce COVID-19 spreading and help with the recovery of the local economy.
The Government has announced a phased easing of rules around businesses and other properties opening, starting from June.
We all have a part to play in this. Safety is the main focus and the behaviour of people to keep socially distanced and avoid the spread is the first line of that defence. It is the responsibility of businesses to make sure they have the proper measures in place and the public must also play their part in keeping two metres apart and following guidance to stop the spread of infection. See the Government guidance on how to stay safe outside your home
Where you shop or visit
We are leading with partners such as local BIDs (Business Improvement Districts), business representatives, town and parish councils, at looking at tailored solutions for particular towns and areas.
The measures being suggested follow engagement with local groups, councils and organisations.
While guidelines may change from June onwards, it is anticipated that measures being taken will evolve and change to ensure safety – some will be brought in earlier than others to respond to this advice and depending on what needs to be carried out. This will be kept under review.
You can find out more about the local changes for:
Brandon, Clare and Mildenhall changes are currently under development.
We know there are many other places where shops will be opening up across West Suffolk and business owners are advised to follow the guidance below.
Businesses
West Suffolk is working with partners to help make places are safe and to support businesses in following the national guidance. Businesses are responsible for making sure their premises are safe. Companies can see the latest guidance from the Government:
If you have any queries about the guidance, please contact our enforcement team - email food&safety@westsuffolk.gov.uk  to see what actions you need to take.
We have produced a Safer places - business information pack. This includes signage that businesses can download or printed versions can be requested from the council.
In Bury St Edmunds, Our Bury St Edmunds  and in Newmarket, Love Newmarket are working with businesses, providing advice and help with social distance signage and other measures. Please feel free if you are a business, to share best practice yourselves.
Businesses in Haverhill may also be able to get help from One Haverhill
Pavement licenses
Applications are open in West Suffolk for temporary pavement licences to help cafés, restaurants and pubs trade during COVID-19 and keep people safe.
The move by West Suffolk Council follows new legislation just agreed by Government to ease previous restrictions on putting items such as tables and chairs outside premises for the sale of food or drink for consumption.
A fast track process has been introduced so premises can apply, relevant consultees can have their say and a decision made in a much shorter time. Government allows councils to charge up to £100 to apply but West Suffolk Council has agreed during this time to make the process free.
More information can be found at Temporary pavement licences
It is worth noting guidance may change depending on infection rates and the latest announcements from Government.
Council areas
The council has undertaken risk assessments for the areas and facilities we are responsible for such as car parks, parks and markets and people are urged to follow the signs and guidance displayed.  
Highways
To ensure appropriate safety measures can be put in place for communities across Suffolk, the county council, with partners has developed guidance and advice on how safe, social distancing measures can be maintained on the highway.
This includes empowering local councils and the business community to make small-scale temporary changes to enable safe, social distancing, without the need to seek consent from Suffolk County Council.
The guidance can be found at Suffolk County Council - Guidance for safer places in the highway