Safer places - Brandon
Measures in Brandon town centre
Guidance to all businesses
GOV.UK – Working safely during coronavirus (COVID-19)

Businesses should only open where it is safe to do so. How businesses cooperate in ensuring the safety of customers and the layering impact of multiple premises being accessed (for example queuing, use of car parks) will be a key consideration and the council can help with advice and guidance as necessary. Businesses must remove any outside furniture/a-boards or other items that restrict safe passage, unless they are being used for social distancing purposes.

The council is producing a resource pack to support businesses with signage.
Changes to road and path layouts
The council is working with Suffolk County Council, business improvement districts and town councils to identify measures to respond to potential pinch points where safe distancing will be challenging. These measures will be kept under review and are summarised for each town. Clear signage will be provided – please do observe it.
Queuing protocol
Businesses are advised to ensure that customers queue in a safe way, following the line of the building rather than cutting across the pavement. Pavement stickers should be used or barriers. Numbers in queues may need to be limited if it impacts on the other pedestrians or shops.
Public toilets
Public toilets operated by West Suffolk are open with a strict cleaning regime and entry and exit protocols. Please observe the signs.
Markets
West Suffolk markets have reopened and strict social distancing protocols are in place. This will be kept under review and the impact on safe distancing as retail reopens carefully tracked.
Car parking
The council run car parks are currently open.

Car parking charges are being reinstated across West Suffolk from Monday 15 June to manage demand on spaces. Parking tariffs are remaining at the old levels with permits available for certain care workers. Managing car parks through charging ensures parking turnover for shops and the availability of long stay spaces for workers.

In car parks that are charging, COVID-19 key messaging signs remind users about social distancing and washing hands, with lines painted on the floor by each machine to ensure social distancing. RingGo will be publicised as a method of payment as this involves no contact with pay machines.

The council will be using its civil parking enforcement powers to address vehicles that are parked illegally and impacting on safe movement.
Enforcement
If you go into a commercial premises and see some mistakes, don't start recording or taking photos to later upload on to social media. Please speak to the manager. We have to help each other. This is new for everyone and business owners will be trying their best to make it safe and get their business running again. Let's help each other through this transition. Please report any serious concerns by email: food&safety@westsuffolk.gov.uk
Map of Brandon town centre highways and footpath changes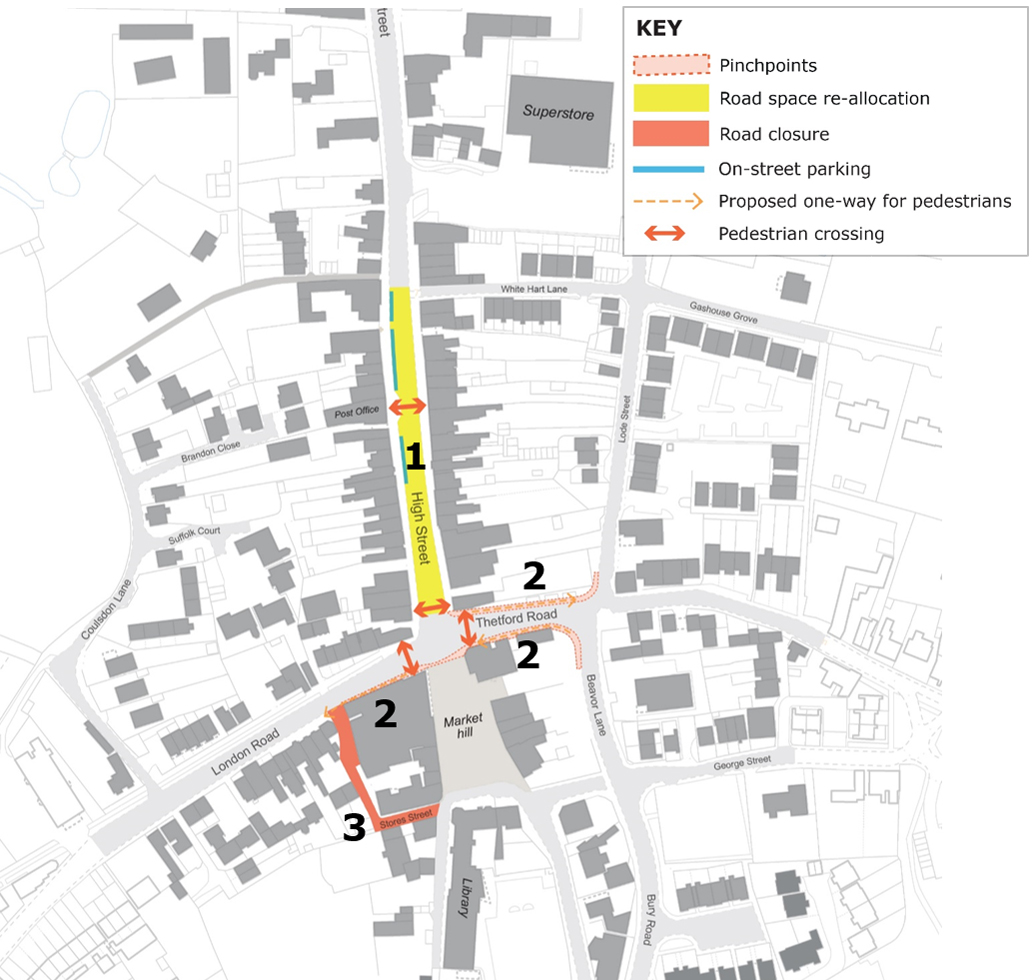 Key to map
Reallocation of road space no traffic regulation order (TRO) required - scheme runs from London Road/Thetford Road to White Hart Lane both sides:

may require the removal of on street parking in some locations subject to available road widths.

Pedestrian one-way at pinch points – footways on Thetford Road and London Road achieved by signs.
Potential road closure on Stores Street to allow for cyclist and pedestrians to avoid London Road pinch point.
Download Safer places - measures for Brandon town centre - highways and footpath changes map