Safer places - business information pack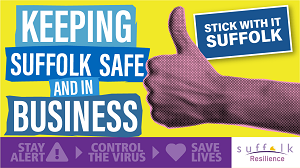 Download the Stick With It Suffolk Graphic (1070x600 pixels) jpg
In order to help businesses open safely so they can trade and do their bit in reducing the spread of COVID-19 we have produced this pack of information.
This includes the latest national guidance and links to that information for businesses – such as measures to help people keep their distance and actions you may need to take for the safety of customers and staff.
The pack also includes templates for signs and stickers you can download and copy to use within your premises – from direction and distance signs to specialist information to encourage people to follow the measures or talk to you about problems they may find.
We recognise that this is a new way of working for everyone and businesses have a responsibility to put these measures in. However, we know that these initiatives will evolve as guidance changes or improvements are made.
The public also have a role to play in this to stick to the measures put in place to keep themselves and others safe.
This is part of West Suffolk Council's wider support of our communities and businesses during the COVID-19 pandemic as well as our creating Safer Places work. This is to help local businesses open as national guidelines allow and make it safe for people to use our town centres.
Find out our Safer Places principles
COVID early outbreak management action cards
The Joint Biosecurity Centre Action cards are available on the Public Health England (PHE) Coronavirus (COVID-19) Resource Centre website. Cards have been released for the following settings:
Setting category
Setting
Education
Early years
Primary, secondary and special schools, and alternative provision for schools
Residential settings in education
Further education
Higher education
Commercial workplaces
Contact centres, offices and operations rooms
Industrial workplaces
Working in factories, plants, warehouses and waste management and storage sites
Laboratory and research facilities
Food and drink
Food delivery, food to go and mobile catering
Food truck, kiosks, stands and open air markets
Food contract catering
Institutional
Approved premises
Armed forces and defence
Detention and immigration removal centres
Youth detention centres
Small and large gatherings
Business event venues
Community activities and other hobby clubs
Children's community activities, holiday clubs, after school clubs, tuition and other out of school provision for children
Libraries
Grassroots sports, gyms/leisure facilities
Sports grounds and venues
Travel
Airports, seaports, stations and terminals
Harbours and marinas
Ships, ferries, aircrafts and other vessels
Taxis and hire cars
Trains, trams, tubes, buses and coaches
Stickers and signs
Highways changes and signage supported by:



| Information signs |   |
| --- | --- |
| | |
| |   |
Guidance for businesses
Businesses are responsible for making sure their premises are safe. Companies can see the latest guidance from the Government: GOV.UK - Working safely during coronavirus (COVID-19)
You can also find more detailed:
Legislation
Government guidance
Local and organisation guidance
If you have any queries about the guidance, please contact our enforcement team - email food&safety@westsuffolk.gov.uk to see what actions you need to take.
Highways information
To ensure appropriate safety measures can be put in place for communities across Suffolk, the county council, with partners has developed guidance and advice on how safe, social distancing measures can be maintained on the highway.
This includes empowering local councils and the business community to make small-scale temporary changes to enable safe, social distancing, without the need to seek consent from Suffolk County Council.
The guidance can be found at Suffolk County Council - Guidance for safer places in the highway