Air quality
If you are suffering from poor air quality as a result of dust, odour or smoke from a neighbour, we may be able to help you. We can intervene if the problem is considered to be a statutory nuisance. If this is the case the problem would need to be persistent and preventing you from enjoying your home or garden on a regular basis.
Report a problem with air quality (smoke, dust or odours) - phone Customer Services 01638 719000 or 01284 763233, email: customer.services@westsuffolk.gov.uk
Councils are required to carry out air quality testing and identify any areas that are particularly high in pollutants. In West Suffolk this is primarily Nitrous Oxide (NOx) which comes from vehicle emissions. Any identified areas are known as 'air quality management areas'. These are monitored and regularly assessed with an action plan put in place to try and minimise pollution. View the latest air quality assessment report for West Suffolk:
Smoke Control Areas - There are no Smoke Control Areas designated within West Suffolk.
How can you help?
Reduce your personal car usage or switch to an electric vehicle – see below
Ensure your car is serviced regularly, carry only essential loads and drive in a steady manner
If you purchase a traditional fuelled car, consider efficient petrol engines over diesel
Encourage your employer, school or college to set up a green travel plan
Remember to not idle when parked, especially when close to schools, hospitals and GPs
Car share to reduce emissions and save money
Burn less wood fuel when heating your home
Electric vehicles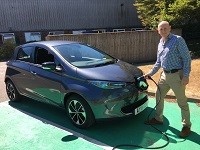 On the 26 July 2017, the Government announced its proposal to ban all new diesel and petrol cars by 2040, tackling air quality and greenhouse gas emissions.
Instead of being powered by petrol or diesel and releasing harmful pollutants, pure electric vehicles produce no emissions (at point of use). Although they have a higher purchase cost, they are much cheaper to run - costing on average 7p less per mile to run than a petrol or diesel equivalent.
Electric vehicle event 25 August 2018
Following on from the success last year, the third West Suffolk electric vehicle event will be held on Saturday 25 August 2018 from 9am to 5.30pm. The event will be located in Charter Square, in the Arc Shopping Centre and will feature vehicles including a pure-electric Jaguar I-Pace and Renault Zoe along with local charging network operators. Members of the public will be able to look around and inside the vehicles and charging equipment, whilst representatives will be on-hand to answer any questions.
Last year, the West Suffolk electric vehicle event saw five local dealerships displaying nine pure electric drive vehicles in the Arc Shopping Centre in Bury St Edmunds. Many people were surprised to see the range of vehicles on offer and their practicality for business use.
If you would like to be involved with future electric vehicle events, please contact environment@westsuffolk.gov.uk
Current infrastructure
Charging can take place at home or at charge points located around the country including places of work and along road networks. To check the charge point facilities in your local area visit Zap Map
What the council is doing
Working in collaboration with other districts across Norfolk and Suffolk to create a reliable network of rapid chargers along the main road networks.
West Suffolk councils are actively applying for Office for Low Emission Vehicles (OLEV) funding to finance on-street charge points including investigating installing a rapid charger in Newmarket for local residents and business.
Hosting an annual electric vehicle promotion event to increase local adoption of electric vehicles.
Providing financial support to small and medium enterprises to purchase electric vehicles.
Find out more about electric vehicles and additional support available