See Brandon through a child's eyes and Love Where You Live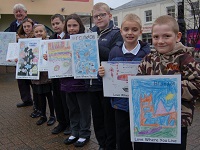 Whether it is the country park, the river, Remembrance Playing Fields or the local shops, children in Brandon have been celebrating why they Love Where they Live.
Youngsters at Forest Academy and Glade Primary School have been drawing their favourite things about Brandon as part of a campaign to encourage people to take pride in their area.
Now eight winning designs are to be turned into road signs, six of which will appear on lampposts in the Market Square while the remaining two will go up in the High Street. The competition was a joint initiative between Forest Heath District Council Families and Communities Officer Louise Fenwick, Brandon Safer Neighbourhood Team PCSO Anne-Marie Powell, Forest Academy and Glade Primary School.
Cllr Robin Millar, Forest Heath District Council Cabinet Member for Families and Communities said: "These designs show some of the great things that Brandon has to offer as seen through a child's eyes. "The country park, the forest, the river, the Remembrance Playing Field - the abundance of open space all feature, as do some of the town retailers.
"These Happy Signs will go up to encourage people to Love Where they Live, to build that sense of pride in their community and empower them to take positive action to look after it."
The idea came after Chief Insp Matt Rose heard of similar Happy Posters promoting positive thoughts amongst a community in America. The new signs have been paid for out of Cllr Reg Silvester's county council locality funding.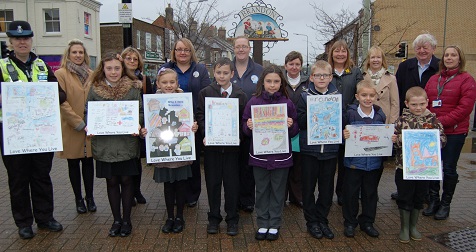 Headteacher of Forest Academy April Grimes said: "Our pupils really took to this challenge and it is wonderful that these designs are to go up as a way of recognising and appreciating the brilliance of Brandon. Hopefully it will encourage others to Love Where they Live."
Andrew Smith, the Headteacher of Glade Primary School said: "Children are the next generation and if we can start by getting them to stand still, reflect on the fantastic things that they love about our local area, and then encourage us adults to do more to look after these resources, then we are creating better, more united communities for our future."
The eight winners have all received prizes kindly donated by Brandon Country Park Manager David Faulk, while 8 runners up have received a £5 gift voucher donated by Brandon Tesco, whom also donated sweets to all the pupils who took part. In the longer term, it is hoped that the designs can all be incorporated into a montage that will go on public display as a future legacy for Brandon.
Meanwhile Forest Heath and St Edmundsbury Borough Councils are looking to work with communities on projects to encourage and empower residents to take more of an active role in looking after the community and area in which they live. Get in contact by email to customer.services@westsuffolk.gov.uk or phone 01638 719000/ 01284 763233. For more visit www.westsuffolk.gov.uk/LWYL
Press release published on the website 30 November 2015.