Drop-in and have your say on legacy for RAF Mildenhall site
21 Sep 2016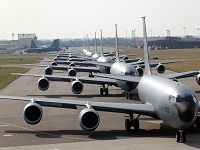 The first of our drop-in events at which residents can find out more and have their say on our vision for new jobs and industry at RAF Mildenhall, takes place next week.
Residents are invited to visit the district council offices in College Heath Road, next Thursday (29 September) between 4-8pm.
Another drop in event will be held the following week on Wednesday 5 October between 4-8pm at the Jubilee Centre in Mildenhall.
Businesses will also have their say at a breakfast event being co-hosted by the Newmarket and District Chamber of Commerce, also on the 5 October, from 8am at the British Racing School.
Leader of Forest Heath District Council Cllr James Waters said: "Let's be very clear, this isn't about Forest Heath creating a masterplan for what will be built on the site – but it is a chance for us to take forward the ongoing work with our local communities to influence Government decisions.
"We, and our partners, have an ambition for Mildenhall with new jobs and new industry.  We cannot simply sit on our hands and wait for these key decisions over our future to be made elsewhere.
"The Ministry of Defence owns the RAF Mildenhall site and has said that part of it will be used for housing – the rest of the site is under review to see if it is required for a military use and that will be completed by 2018.
"We have already led public and business engagement sessions which asked our local communities what did they want to achieve from the site? What should be its legacy? This work simply follows on from that."
Forest Heath used Government funding to appoint Cushman and Wakefield to carry out an independent assessment of the suggestions made at the engagement sessions and to prepare a prospectus outlining a vision for the regeneration of the site. The prospectus, which is out to consultation until 11 October, outlines a mix of new industry, aviation and housing on the site.
The independent assessment looked at the success and failures of other airfield redevelopments and, using the Civil Aviation Authority's catchment data, concluded that by the time the base closes in 2023, with predicted rates of UK passenger growth, a new airport at Mildenhall would attract between 360,000 to 750,000 passengers a year which it said is unlikely to be viable.
The only way it could really succeed, is if other airports were to close and there was rapid economic and population growth.
It also said the Mildenhall site would be unlikely to succeed as a cargo airport. Freight forwarders who control 98 per cent of the general cargo operations have invested in warehousing and handling at consolidation centres around Heathrow. Despite airfreight having to be trucked to these centres, the economies of scale which allows the freight forwarders to negotiate favourable rates with the airlines, means this operation is unlikely to shift from London. East Anglia is also already well served by express cargo operators with Stansted offering better road access and significant capacity to handle more cargo.
However there is still the potential to make use of the long runway at Mildenhall by using it for Maintenance, Repair and Overhaul (MRO) operations. The assessment found that MRO is an area where demand is likely to grow and is a key capability in the UK aerospace sector, and further work needs to be undertaken to explore this.
The prospectus and consultation can be found at www.westsuffolk.gov.uk/mildenhallfuture
---