Fuel poverty project makes 'major difference' to people's lives
09 Jan 2017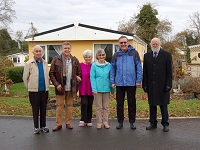 A project which identified and helped residents in a West Suffolk village who were at risk of fuel poverty, has received national recognition.
Environmental Health staff at St Edmundsbury Borough Council identified that there is a higher than average risk of fuel poverty among people living in park homes. At Shepherds Grove Park in Stanton, the standard of insulation in some of the homes was deemed to be particularly poor which meant many of the residents, all of whom are over 55, could have been at risk of fuel poverty. The Council, working with National Grid, the Suffolk wide Warm Homes Healthy People initiative, and external wall insulation installers Cornerstone East Anglia, devised a project to improve the warmth in 28 of the park homes. External wall insulation was installed at 24 of the homes while National Grid put new central heating into 14 homes where the residents were aged over 70.
The result of the work means that the residents of the 28 properties will save a collective total of more than £7,300 of their annual fuel bills, while the carbon savings over the lifetime of the project, which is guaranteed for 25 years, amount to close to 1,000 tonnes. The project has been so successful that it won a national award from the Association of Local Energy Officers.
Cllr Alaric Pugh, St Edmundsbury's Cabinet Member for Planning and Growth said: "Fuel poverty can have a very serious impact on people's health. If people with respiratory and circulatory conditions, people with young children, the elderly or the disabled are unable to keep warm in their homes at this time of year, that can lead to further health complications and people having to be admitted to hospital. That is why work such as this is so important. This will make a major difference to their lives by making their homes more energy efficient and cheaper to run."
Cllr Jim Thorndyke who represents Stanton said: "We have many senior citizens including me in Stanton and while we try to work to support each other it is also important that we can all return to a warm home. It is even more important for those who are less mobile and so are likely to be spending more time at home to begin with. The work at Shepherds Grove Park has made a real difference to some people's lives and of course it doesn't end there. There's lots of help and advice for people via the Warm Homes Healthy People initiative, so anyone struggling to stay warm this winter should give them a call."
John Gale, 67, one of the residents to benefit from the scheme said: "It was so cold in here last winter that I was thinking that I would have to replace my central heating system. Now I have this new insulation and it's keeping in the heat which is saving me money. It's great."
For free advice on emergency fuel payments, how to make your home warmer and more energy efficient, help with getting you home properly insulated and draught proofed, emergency boiler and heating repairs, loans of temporary heaters in an emergency, cheaper oil prices or access to interest free loans, contact Suffolk's Warm Homes Healthy People on 03456 037 686 or visit www.suffolk.gov.uk/warmhomes
---