Not long left to have your say on Bury St Edmunds town centre
11 Apr 2017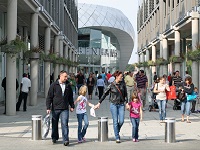 Time is running out for you to have your say and influence the future growth of Bury St Edmunds town centre.
For the past six weeks we have been encouraging Bury St Edmunds residents, town centre workers, shoppers and visitors to take part in discussing the various issues that will need to be addressed to ensure that in future years, Bury St Edmunds town centre continues to be a place that people come to, whether it is to enjoy retail, leisure, culture or heritage, or simply as a place to live.
We – and our partners in this project ­- have held stalls at Bury St Edmunds market, the leisure centre, The Apex, Asda, Sainsbury's, Tesco and Waitrose all in an effort to engage with as many people as we can and to make sure that their voices are heard as we move toward the next stage – the drafting of a town centre masterplan.
Separate to these, The Bury Society and the Churchgate Area Association held their own event which was also attended by representatives of other residents associations in the town, while the Moreton Hall Residents Association held a public meeting last night (10 April) specifically to discuss its response to the issues and options consultation.
Over the last six weeks hard copies of the questionnaires have been made available at The Apex, The Library, The Leisure Centre, West Suffolk College and West Suffolk House.
Now there is a little over a week left for people to give their views – so if you still haven't had your say, get involved. The deadline for responses to be sent back is 5pm on 21 April. The simplest way to take part is online at www.westsuffolk.gov.uk/bsemasterplan
John Popham of the Bury St Edmunds Town Trust, said: "We know that while there are many wonderful things about the town, there are areas that don't work or require upgrading. Even without the planned new houses across the region, the population is growing, and more cars use our roads. The Bury St Edmunds Town Centre Masterplan is about how we make the town better for all, fix its problems, and make it truly accessible. It's only by doing all these things that we can ensure its success for the next decade and beyond."
The Bury St Edmunds Town Centre Masterplan is supported by a working group comprising representatives of OurBuryStEdmunds Business Improvement District, the Suffolk Chamber in Bury St Edmunds, Bury St Edmunds market traders, The Bury Society, the Bury St Edmunds Town Trust, Bury St Edmunds Town Council, St Edmundsbury Borough Council and Suffolk County Council, working alongside urban design and town planning specialists David Lock Associates and Peter Brett Associates.
---