Mildenhall Hub planning application submitted
26 May 2017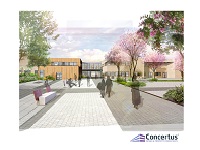 A planning application to revolutionise the future of education, leisure and public services in Mildenhall has now been submitted.
The Mildenhall Hub will bring together Mildenhall College Academy, a new leisure facility, larger swimming pool, a health centre, library and other public services on one site close to the existing town centre.
The Hub proposals have been shaped through earlier rounds of consultation, including those who live closest to the site and will be the most affected.
As a result of the feedback received, the draft design has evolved to include changes to design, landscaping, footpaths and parking for people with disabilities and the provision of overflow parking spaces within the site.
As has been understood by the partners all along, a concern raised about the plans by people for and against the Hub has been the potential impact on traffic, with many calling for changes for nearby junctions and surrounding roads, as well as a new relief road.
A traffic assessment by AECOM estimates that the worst case scenario would result in drivers waiting no more than thirty seconds longer during rush hour as a direct result of the Hub at the North Terrace / Kingsway / High Street three-arm roundabout. Ways to reduce this and other impacts on local roads will be looked at by the Highway Authority as part of the scheme.
The study adds that the Hub will redistribute existing journeys in the town and won't trigger a need for a relief or link road on its own. That road would be looked at separately in the future, alongside work on the future of RAF Mildenhall.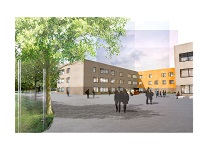 Susan Byles, Principal of Mildenhall College Academy said: "Mildenhall College Academy needs a new building. It is as simple as that! Not only does being part of the hub afford us the best possible opportunity to build a new secondary school but it also places the Academy at the heart of our local community. So much of the learning environment for students today takes place outside of the classroom: work experience for our Sixth Form students, working with our local primary schools to support transition; liaising with healthcare providers and external agencies to support the wellbeing of our students and their families; enterprising projects with local business, the public services and sports providers. The Mildenhall Hub will mean that all of these resources are available on our doorstep.
"We are committed to providing an outstanding education for our students and we think they deserve a state of the art academy building in which to learn and develop as young people who live and may one day work and raise their families in the local community."
Edward Thomas, Estates Director for the Academy Transformation Trust, said: "The Mildenhall Hub represents a unique opportunity for Mildenhall College Academy to address millions of pounds of condition issues, back log maintenance and lifecycle costs whilst providing state of the art facilities at the heart of the community. The support for the project from the Education Funding Agency throughout this process has been outstanding and integral in ensuring ATT and Mildenhall College Academy's involvement in this exciting project which will positively impact the academy, its pupils, staff and attainment whilst benefiting the community of Mildenhall for years to come."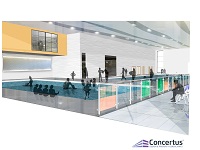 Warren Smyth, Chief Executive, Abbeycroft Leisure said: "We are very excited about the development of the Hub in Mildenhall. The new provisions planned within Leisure will ensure that everyone, regardless of their age, status, background or ability, will have the chance to take part in sport or physical activity, in an environment that is fit for purpose.
"The Hub will create opportunities to improve the health and wellbeing of local people, by offering top class facilities, working seamlessly with health providers and targeting demographics to encourage those not currently active, such as pregnant women, older people or those living with mental health issues
"By working collaboratively, we will be able to inspire young people to make positive life choices, offer training and employment platforms into the industry, and importantly embed physical activity into the lives of very young children and the whole family unit."
Andrew Eley, deputy chief operating officer, NHS West Suffolk Clinical Commissioning Group said: "As Mildenhall's population continues to expand it is important that people's physical and mental wellbeing needs continue to be met. The CCG welcomes this proposal to create a community hub.
"The Hub will not only deliver a brand new health centre, it will also house leisure and educational facilities, which are important for keeping the body and mind healthy and active."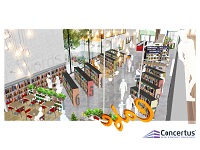 Alison Wheeler, Chief Executive of Suffolk Libraries, said: "This project could provide several benefits for library customers including a new and more modern library space, closer to the town centre. Being based in a shared building with other organisations has worked successfully for us in other places and the library is likely to attract new visitors who come to access other services. Some library services are also likely to be available outside normal opening hours, increasing access for local people. Library users will also have access to additional facilities such as a café, public toilets and baby changing and there will be better space for us to provide activities and events."
Inspector Mark Shipton, Local Policing Commander -  Forest Heath District, said: "This means that we can focus our investments in people, not property, ensuring we can deliver a really high standard of policing for the community. It has also been proven to provide a more effective problem-solving approach when issues are dealt with collaboratively by more than one agency and I am really excited about this new opportunity to work closely with our partners in this new environment."
A spokesman for Forest Heath District Council said: "The Hub is One Public Estate in action.  The growing population of Mildenhall both needs and deserves better school and leisure facilities. Neither the school, nor the leisure facilities in the town are fit for purpose now, let alone for five years' time, while public service buildings in the town needs millions of pounds of investment to stay open, and even then would not be suited to modern day needs.
"This is a once in a lifetime opportunity to invest in the town to deliver a better education for youngsters in the area, better gym facilities, better swimming facilities, better access to all public services which will also be cheaper to run and therefore more likely to be sustained despite future financial challenges."
You can comment on the planning application once it has been formally registered by visiting https://planning.westsuffolk.gov.uk/online-applications/ and searching for Mildenhall Hub.
---