Scout group thanks councillor
13 Jun 2017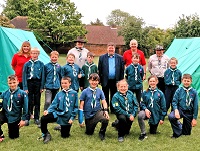 A scout group in Haverhill is to encourage even more young people to camp out beneath the stars, after gaining support from a local councillor.
The 1st Haverhill Scout group which caters for 80 young people has bought two new patrol tents. St Edmundsbury Borough Councillor John Burns gave £600  from his locality budget towards the purchase.
Scout Leader Dave Miller said: "All of us at 1st Haverhill Scouts would like to say a massive thank you to councillor John Burns for his donation. We were able to use the funding to replace our older canvas tents with new ones, which the children were able to enjoy using for the first time at our recent camp. Scouting gives children the chance to learn important life skills while having fun, and this donation has helped to further the success of Scouting in Haverhill."
Cllr John Burns said: "Scouting in general is about encouraging young people to make new friends, develop new skills and gain in confidence. That in turn means that both as a group, and as individuals, they are able to go on to help support and strengthen our local communities. Part of their development within the scouts will come through camping out and having these tents will allow even more of the scouts to enjoy this great experience which can really add to their sense of self-assurance."
---