Why not give walking football a try?
19 Jan 2018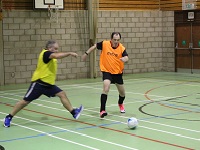 If your New Year's resolution was to get more active then why not follow in the footsteps of St Edmundsbury Mayor and give walking football a try.
Mayor Terry Clements took part in a session held at Howard Primary School in Beard Road on Wednesday this week.
Abbeycroft Leisure holds sessions for men and women of all ages, although walking football is open to all ages, it tends to be more popular with the over 50s.
The sessions take place every Wednesday during school term time from 5.15pm to 6.15pm.
The sessions at the primary school have been supported by £1000 of locality budget funding from St Edmundsbury Borough Councillor Diane Hind and £500 from Bury St Edmunds Town Councillor Tom Murray.
Cllr Hind who represents the Northgate Ward helped organise the weekly sessions back in the summer and is hoping people will be enticed to get active and take part while it is still free.
"It is a fun game and ideal for anyone wanting to shed a few pounds, get a bit fitter, or just shake off winter blues. The sessions will be free until the end of February after which we hope the sessions will be self- financing," Cllr Hind said.
Cllr Murray said: "I think this is one of the best ideas in years bringing the ethos and friendship of sport to those of us who may not be so spritely but wish to stay active and have fun together. I'm very happy to have been involved."
Warren Smyth, Abbeycroft's chief executive officer said "We're very grateful to Cllr Hind and Cllr Murray for their support of the walking football sessions which offer an excellent way to get back into exercise or to start exercising for the first time."
Walking Football is a version where any player caught running concedes a free kick to the opposition. It is growing in popularity particularly among people who have mobility problems and offers them a way to get back into playing the beautiful game.
Mayor Terry Clements who is 66, said: "I thoroughly enjoy it. It's been a few years since I used to run around coaching Sicklesmere youth team, and nowadays I am more used to getting tackled by my grandchildren. Walking Football and walking netball are fantastic ways to get out there, keep active, make new friends and of course enjoy being part of a team."
The sessions are run by qualified coaches. Anyone interested in finding out if Walking Football is for them can come along and join in. Well -fitting footwear is essential, but otherwise just wear comfortable clothing and bring a drink of water.
No booking is required, just turn up and play. For more information contact Charlie Potter by emailing Charlie.potter@acleisure.com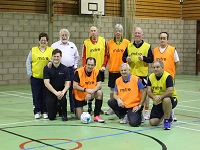 ---