Haverhill company sees the energy efficient light
09 Feb 2018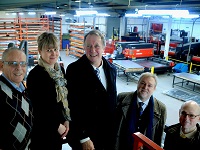 A pioneering West Suffolk scheme to support local businesses be greener and save money has helped a Haverhill company see the light and reduce costs.
DB Sheetmetals which is in the metal work manufacturing sector needed to replace aging lighting to help with inspection and reduce costs but didn't have the time or funding available to make the project happen.
By working with St Edmundsbury Borough Council's Community Energy Programme the company were able to get technical and financial support from the authority and £6,150 grant funding from Business Energy Efficiency Anglia www.beeanglia.org
This has now meant the company which employs 38 has been able to undertake a site wide replacement of the old lighting with new energy efficient LED bulbs with minimal disruption. This has not only improved light levels for vital inspection work but has also saved energy, reduced bills by over £3,400 and reduced greenhouse gas emissions.
Now the company are urging others across West Suffolk to follow suit and see how the scheme can benefit them.
The council's innovative energy performance approach provided 100% finance of the project costs. This approach mirrors the latest innovations in the energy efficiency industry and provides benefits for all involved. DB Sheetmetals are repaying the cost of the project monthly and the council's Community Energy programme, working closely with the installer IC Lighting, has provided a guarantee that the energy savings will repay the capital expenditure in 3.7 years.
West Suffolk businesses can contact the Environment and Energy team to find out more on: environment@westsuffolk.gov.uk or call 01284 757400.
Caroline Law from DB Sheetmetals, said: "Replacing this lighting was important for the business to help us modernise, provide a better service and reduce energy costs. But like most small businesses finding the finance and having the time to do this is difficult. The Council and its Community Energy Programme were able to project management the procurement and installation as well as helping us gain a grant from Business Energy Efficiency Anglia. This has meant we have been able to install the new LEDs and pay back the secured loan over time. Quite simply, it is unlikely the project would have happened without the Council's Environment and Energy Team support."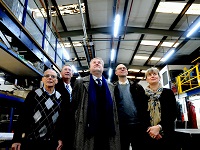 St Edmundsbury Borough Councillor Alaric Pugh, Portfolio Holder for Planning and Growth, said: "This is part of the Council's priority of supporting local businesses, the economy and our environment. Our Community Energy Programme has already pioneered the Solar for Business programme that provide solar energy to businesses saving on average 25% on their electricity unit cost. We are really pleased to have worked with DB Sheetmetals to pilot this innovative approach to energy efficiency funding. We want to help as many companies as we can and we are currently running a promotion focusing on the Haverhill area. If you are in business in West Suffolk I would urge you to get in touch with us to and tell us what you businesses needs to grow."
Businesses can find out more at: http://www.westsuffolk.gov.uk/Business/Start_and_Grow_Your_Business/businessenergy.cfm
---