Teenagers become friends with people living with dementia
22 Feb 2018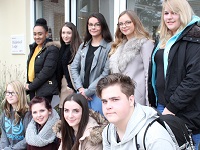 Teenagers from a Mildenhall school have been trained to make friends with elderly people living with dementia and are now visiting a local care home.
The sixth-formers from Mildenhall College Academy were recruited by the Suffolk charity YOPEY and trained at Mildenhall Lodge care home in the town.
Now that they have passed checks by the Government's Disclosure and Barring Service, five of the young people have started to walk from their MCA6 centre in Sheldrick Way to the care home in St John's Close to visit the home's 60 residents, some of whom very rarely get visitors.
At the end of their training the 16-18 year-olds were given 'YOPEY Befriender' badges by the charity's founder, Tony Gearing, who was made an MBE by the Queen last year "for services to young people in the UK".
Tony has previously run Young People of the Year campaigns in Suffolk and other counties, and YOPEY, which is based in Stradishall, is short for Young People of the Year.
He said: "It can be quite daunting at first to make conversation with someone with dementia. But following the training and with further support from the care home staff, I am sure the young people will be able to fill a gap in the hearts of lonely residents."
Carol Cooper, the teacher in charge of pastoral care at MCA6. said: "This is a great scheme that involves our students visiting the elderly residents at Mildenhall Lodge. The training was interesting and gave our students confidence for their regular visits. Our students really enjoy chatting to their "friends" and already have heard many thought provoking stories about the past.
"In addition to sitting and chatting the students are also developing their skills such as empathy and communication which will help in their future.  It's always lovely to hear about how their visits have gone when the students return to college and knowing that both generations are getting such a benefit from the visits."
 Mildenhall Lodge, which has just been rated Outstanding, the top rating by the Care Quality Commission, is owned by Care UK, which runs 10 care homes across Suffolk and a further 105 around the UK.
A Care UK spokeswoman said: "We'd like to thank the pupils from Mildenhall College Academy for continuing to put a smile on the residents' faces – it's lovely to see new friendships grow already.
"YOPEY Befriender is one of a number of schemes we run in the home to promote interaction between residents and young people through inter-generational activities. These visits have had a real impact, and particularly for those living with dementia who become more engaged and eager to interact."
While YOPEY has run Befriender schemes in other parts of East Anglia, including Bury St Edmunds, Sudbury and Wymondham, this is the first in the Newmarket area and is paid for with a grant from Forest Heath Council.
Cllr Robin Millar, Cabinet Member for Families and Communities at Forest Heath District Council said: "Many people in care homes, even if they are visited regularly by their family, may still feel lonely and isolated. The great thing about this YOPEY Befriender scheme is that not only does it help lift some of that feeling of loneliness, which then has a positive impact on health and wellbeing, but it also brings generations together.
"For the older people its shows them that young people are not the national tabloid stereotypical hoodies out to cause trouble and fear. For the young students, this offers a way into volunteering and with it a chance to bridge the generation gap. They will better understand and relate to elderly people, especially those who are living with dementia."
---