Community to celebrate market memories
08 May 2018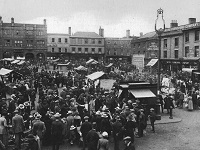 A community celebration involving students, artists,elderly residents, a Facebook group, museum service and market traders, begins next week.
Old photos, items and memories of the market from decades past will feature in a pop-up museum on the market next Wednesday (16 May) while students from St Benedict's Catholic School will be serving free tea and cake to local elderly residents and listening to their market memories for a social history project.
Community arts teacher Louise Gridley who also teaches at St Benedict's Catholic School is leading the event in partnership with St Edmundsbury Borough Council's markets and museums services.
She said: "This is about bringing generations together to celebrate the market past and present as a focal point for our community and as a place that adds to the brilliant buzz of Bury St Edmunds town centre. Our students are really looking forward to it. Art students have been working hard to create Mad Hatter-style props to stage the tea party while design technology students will be making and serving cakes. Our history students have been working with Suffolk Records Office to contribute to the pop-up museum. We will also have poetry readings and live music on the day. It is going to be great."
The Market Matters Project is being held as part of the national Love Your Local Market fortnight. Last year Bury St Edmunds market won a national award for its community work with St Benedict's students and Miss Gridley, which culminated in a puppet parade.
This year's project involves even more of the community. Students from Barrow, Guildhall Feoffment, Botesdale, Priory Special School, County Upper, Stanton, St Edmunds Catholic and Abbots Green primary schools have all been involved in hat making workshops, as have visitors to the Gatehouse Dementia Hub and residents at Stradbrooke Court Sheltered Housing, Cross Penny Court Sheltered Housing and Cornwallis Court Care Home.
Those hats will be worn at the tea party at the market on Wednesday 16 May between 12pm and 1.30pm. The pop-up museum will take place both on the market and in Moyse's Hall Museum which will offer free entry for the day.
Then on Saturday 26 May there will be a free hat making workshop on the market between 10am and 1.00pm, followed by a hat parade at 2.30pm from the Apex to the Abbey Gardens where there will be a community picnic free entertainment.
Members of the We Love Bury St Edmunds! Facebook group - www.facebook.com/groups/welovebse - have been sharing their old market photos and memories which will feature in the pop-up museum.
James Sheen, founder of We Love Bury St Edmunds! said: "Our community in "We Love Bury St Edmunds!" Facebook group have been delighted to get involved in this, working alongside the school, the market traders and the Council. The whole ethos of the group is about sharing memories and celebrating all that we love about Bury St Edmunds past and present. We now have more than 18,200 members and we are growing by the day. We will endeavour to share all of the market photos posted on our website at www.welovebse.com where anybody who is not yet part of the Facebook group, can go have a look and see why they should get involved."
Cllr Robert Everitt, Cabinet Member for Families and Communities at St Edmundsbury Borough Council said: "It is great to see so many people, young and less so, involved in bringing this celebration together, creating greater bonds between the different generations of people that we have in our local community. The market both traditionally and now, is a key part of our community. It is more than a place to shop. It is part of the atmosphere and experience that makes Bury St Edmunds so enjoyable to so many people and it is one of the many reasons people are proud to say We Love Bury St Edmunds."
The events have been supported with locality budget funding from St Edmundsbury Borough Cllrs Joanna Rayner and Patrick Chung, as well as funding from Bury St Edmunds Town Council.
St Edmundsbury is also offering young people the chance to run arts and crafts stalls on the market on 16 May, for free. Anybody who has items that they wish to loan to the pop-up museum, or who wants to take up the free stall offer, should contact Sharon.fairweather@westsuffolk.gov.uk
---