West Suffolk leads the way with electric vehicle roadshow
06 Aug 2018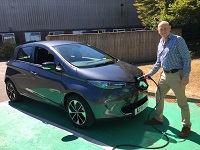 The first in a series of initiatives designed to encourage residents and businesses to switch to electric vehicles, will take place later this month.
West Suffolk councils will be holding an Electric Vehicle (EV) roadshow in the arc on Saturday 25 August from 9am to 5pm where it will highlight the financial, economical and environmental benefits of EVs.
The Councils already operate charging points in car parks in Bury St Edmunds, Haverhill and Newmarket and keeps demand under review. It will shortly be announcing the details of a pilot scheme designed to make it even easier for residents to charge EVs outside their own homes. 
On top of that West Suffolk councils will be holding an event specifically aimed at local businesses as part of the West Suffolk Business Festival in October. They already offer a Greener Business Grant which will match fund a business up to £1,000 towards the cost of an EV or company charge point.
Cllr Alaric Pugh, Cabinet Member for Planning and Growth at St Edmundsbury Borough Council said: "There is no doubt that EVs are the future. The Government intends to end the sale of petrol and diesel cars in the UK by 2040 but we want to make that choice easier for our residents and businesses now.
"We recognise that given West Suffolk is a beautiful rural area, for many people, some journeys aren't always possible by any other means than by car. So while we continue to encourage people to walk, cycle, or use public transport where we can, we are realistic that many of us use cars – and so we are taking the initiative to make EV an easier choice by making charging points more readily available."
Cllr Lance Stanbury, Forest Heath's Cabinet Member for Planning and Growth said: "We know that EVs are cheaper to run – generally a quarter of the cost of petrol or diesel per mile – and where technology has dramatically improved they can make long journeys on a single charge which means they are now a more realistic option not just for residents but for businesses including trades people and small scale suppliers.
"On top of this, by switching to EVs people are helping reduce air pollution which Public Health England says cost the country £42.88 million in health and social care costs last year, a figure it warns will rise to £5.3 billion by 2035 unless air pollution is addressed on a national scale. So come along to our roadshow and find out more."
The EV campaign is part of the Councils' wider work around cutting air pollution, work which includes reducing vehicle idling and encouraging greater use of clean energy particularly solar energy.
---