New attractions at this year's Christmas Fayre
29 Oct 2018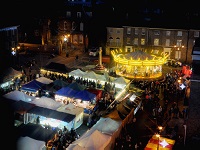 Praised by visitors for its fabulous, friendly, festive atmosphere, the award winning Christmas Fayre returns next month with new attractions to enjoy.
The Bury St Edmunds Christmas Fayre which attracts thousands of visitors to the town involves local schools and community choirs and take place from November 22 to November 25.
This year sees the inclusion of one of Bury St Edmunds oldest buildings and its latest visitor attraction, The Guildhall. There, children will be able to enjoy toy making workshops on the Saturday and Sunday while there will also be festive food and for the adults drink including some fantastic winter beers.
Also new for 2018 is the Elves Wonderland in St Johns Street. Independent traders in the street will be holding a three day festival from the Friday to the Sunday with live music, street food, mulled wine and gin.
And for the first time, this year also sees the introduction of The Haart community stage in The Abbey Gardens while there will also be musical entertainment throughout the fayre from The Greene King stage on Angel Hill.
On top of all this we have our usual array of more than 300 stalls, the Ice Cookery Theatre in the Cathedral Courtyard, plus our street market, a farmers market, funfairs, street entertainment, Santa's Grotto in the Abbey Gardens and more.
As with last year and many public events nationally, while there is no specific threat to the Christmas Fayre, security measures including armed police will be in place to offer public assurance, deter or detect any risks and ensure that people can get on with safely enjoying the fayre. People are encouraged to say hello to the police officers and give them their support.
Cllr John Griffiths, leader of St Edmundsbury Borough Council which organises the fayre, said: "The fayre offers a chance to bring our communities together while it also benefits our local economy not just over the four days, but through attracting visitors who return to spend their time and money in many of our wonderful town centre shops, cafes, pubs and restaurants. Whether you are a regular visitor to the fayre or haven't been for a number of years, there's plenty of fun and entertainment to enjoy across all four days.
"Like last year there is no evidence of any specific threat, but as at other large events across the UK, you may again notice a range of physical security measures being deployed as a precaution, as you would have seen at last year's Christmas Fayre. They include a variety of bollard and barrier systems. Some of these measures have been designed and integrated as part of our street furniture to blend as well as possible into the aesthetics of our historic town. Like last year, we would thank the Police who work with us so closely. We encourage visitors to say hello to officers and give them your support as they support our communities and help people enjoy this great family friendly event."
Superintendent Kim Warner, western area commander for Suffolk police "As always, we are looking forward to policing the Bury St Edmunds Christmas Fayre again this year. We have been working with the Council and other partners to plan for this event. Once again we will have armed and unarmed officers at the fayre, working hard to keep people safe, offer visible public assurance, deter or detect anybody up to no good and to make sure everyone has a great time. Of course the public also has a role to play in this and they can help keep people safe by reporting anything unusual. If in doubt trust your instincts and call security on 01284 758008 or 01284 758009, the police on 101 or 999 depending on urgency."
The fayre begins from midday on the Thursday. Opening night includes children leading a penguin puppet parade from The Apex to Angel Hill at 5.30pm, the East Anglia's Children's Hospice's Carol Concert in St Edmundsbury Cathedral at 7pm, and a fireworks display in the Abbey Gardens at 8pm.
The Council's park and ride service will be starting earlier this year – from 11am on the Thursday while additional car parking – all within walking distance of the town centre will be available for some of the fayre at West Suffolk College in Beetons Way, the Council car park in Olding Road, Greene King in Cullum Road, Priory School in Mount Road and St Edmundsbury School in Grove Road.
For those driving in Radio West Suffolk fm 103.3 will be providing regular updates on where to park, while Twitter follower of @stedsbc can keep up to date with live updates on #buryparking
For more in this year's fayre line up visit www.burystedmundschristmasfayre.co.uk
---