Reducing rough sleeping and preventing homelessness
06 Dec 2018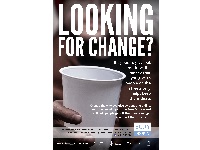 A rough sleeper support team set up in September is seeing results as it works to help people off the streets and into accommodation.
A team of five rough sleeper support workers including expertise in addiction and mental health support, was created after successful bids by West Suffolk councils for Government funds.
Since September, the team who operate across West Suffolk have helped rough sleepers on 31 occasions off of the streets and other open places into accommodation. In that same few months it has also prevented people from returning to rough sleeping on 18 occasions.
That has contributed to a reduction in the number of rough sleepers in the area. There are currently around 20 people sleeping rough in the Bury St Edmunds area and approximately another two in other parts of West Suffolk. That compares to about 25 in Bury St Edmunds three months ago out of a total of around 36 in West Suffolk.
Cllr Sara Mildmay-White, West Suffolk councils' Cabinet Member for Housing said: "Helping people off of the streets is not as simple as providing them accommodation and giving them a key. Many of our rough sleepers need support for addiction and/or mental health issues if they are to maintain a roof over their head and work toward a more permanent form of accommodation.
"Over the past year the council has invested in all-year round accommodation to help rough sleepers off of the streets. Crucially with that accommodation, comes support staff to help the individuals with whatever issues they face to try to prevent them from returning to the streets.
"We have support and accommodation available which means that we are unlikely to need a winter night shelter. This is part of our continued focus on helping rough sleepers rebuilding their lives. Of course there is still a long way to go and we continue to talk to people who are rough sleeping to try to get them to accept the support and help that they need for life off the streets."
Heather Wheeler MP, Housing Minister said: "Nobody should ever have to sleep rough on our streets and through our Rough Sleeping Initiative we are investing £64m into areas such as West Suffolk to ensure that the vulnerable people on our streets are getting the immediate support they need.
"But we know there is more that we need to do and we're committed to working with West Suffolk to continue to make a positive difference to the lives of those sleeping rough."
The council works to stop many people from becoming homeless in the first place. Since April this year West Suffolk councils have assessed more than 2000 homelessness prevention cases. Housing officers sit down with each individual and develop a tailored plan to prevent them becoming homeless, or if they have already become homeless, to get them into accommodation with any necessary support. The council continues to provide temporary and emergency accommodation for those who need it.
At the same time Bury Drop In has launched an alternative giving campaign called Looking For Change, backed by a number of partners including West Suffolk councils. That campaign encourages people not to give money directly to people on the streets as it may be spent on drink or drug which makes it more difficult to get a person into accommodation and if they do, for them to then keep that place, while sometimes the people that appear to be homeless have a home and are simply preying on public goodwill. Instead people can donate by text to the Drop In by texting WROO36 £(Amount) to 70070 or visit www.justgiving.com/burydropin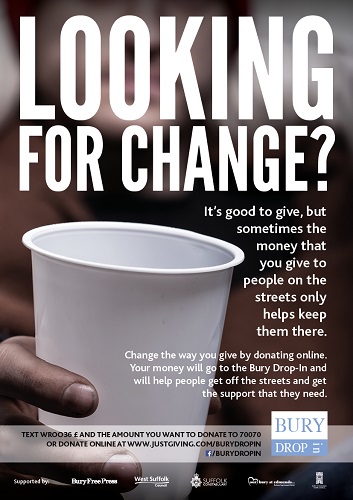 The Drop In which is run by volunteers not only serves food and a warm drink to people who are rough sleeping but also works with other agencies to help rough sleepers get a roof over their head, any support they may need, improved health, education, clean clothes, a job and to reconnect with their families if they want to. The money donate meanwhile is available as grants to people who have been rough sleeping, have received support for any issues of addiction and are ready to more from temporary into a more permanent home.
---