A new way to help the homeless and vulnerable in Newmarket
14 Mar 2019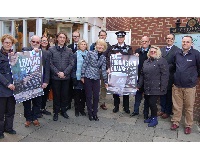 A community led campaign is asking people in Newmarket to think about how and why they give to homeless people or people they see on the street.
The Newmarket InterFaith Forum has teamed up with The Bury Drop In Centre charity to launch the Looking For Change alternative giving campaign.
The campaign encourages people to help people who are rough sleeping by text or online donations rather than giving money direct. Money donated to Looking for Change will support people who have been rough sleeping, people who are homeless but not living on the streets, and people who are vulnerable.
Max Drinkwater of Newmarket InterFaith Forum said: "People, no matter what their beliefs are, want to help those less fortunate than themselves. Sadly sometimes when we give money to people on the streets, that money is used to feed addictions which doesn't help them change their situation and makes it harder for them to stay in accommodation. We also know that sometimes people are deceived by beggars preying on human kindness.
"Looking for Change is about making sure that the money we donate can make a genuine difference to people's lives and that is why we are delighted to be working with the Drop In charity."
Newmarket Looking For Change is part of the continuation of a successful campaign in Bury St Edmunds. A dedicated Newmarket text number and online donations weblink has been set up ensuring all money donated will help support people in the town.
David Bonnett from Bury Drop In said: "Our team of volunteers provide support for vulnerable people including food and a warm drink, while we also work with other partners to help homeless people get a roof over their head, any support they may need, improved health, education, clean clothes, a job and to reconnect with their families if they want to."
West Suffolk councils, which supports the Looking For Change campaign, is committed to reducing rough sleeping and preventing homeless from occurring through early intervention. The Council has invested in more temporary accommodation across West Suffolk including in Newmarket.
It also secured Government funding to establish a team of five rough sleeper support workers with expertise in mental health and addiction support. This has led to a reduction in the number of people rough sleeping in West Suffolk including successful interventions to stop people from returning to rough sleeping. Not everyone, however, is ready to accept the help that is offered.
Cllr Robin Millar, Cabinet Member for Families and Communities at West Suffolk councils, said: "The role of the community is crucial to this campaign's success. It is about us all working together and Looking For Change to benefit the lives of some of the most vulnerable people in and around Newmarket. That's why I'm delighted that so many partners are supporting this great community initiative."
Newmarket Looking for Change campaign is also backed by The Newmarket Journal, Love Newmarket which represents town centre businesses in the town, Suffolk Police and Newmarket Town Council.
Graham Philpott of Love Newmarket said: "We would urge local residents and visitors to the town to back the important work of this local partnership. We know that people want to help and by supporting Looking for Change we hope that we can make a real difference."
Mayor of Newmarket Cllr Rachel Hood said: "We are actively supporting 'Looking for Change' as they work to ensure that the people in our community who are in need of help,  whether because they have been rough sleeping, are homeless or they are in some other way vulnerable, get the assistance that they need. This is being led by a partnership of Newmarket organisations and the Town Council which has an important role to play in encouraging people to think about how and why they give money to vulnerable people."
Inspector Mark Shipton from Suffolk Constabulary said: "Suffolk police is extremely pleased to be supporting the 'Looking for Change' partnership initiative for Newmarket. It will play a valuable role in changing the way the public gives money to homeless and vulnerable people in the town to ensure they get the vitally important and relevant support they need."
You can support Newmarket Looking For Change – to donate by text type NKT and the amount that you wish to give, so £2 would be NKT2 and send to 70085.
You can also donate on line at https://echoleft.com/fundraising/newmarket-looking-for-change/donate
If you see or suspect someone is rough sleeping report it at www.streetlink.org.uk so that West Suffolk Council can, if it hasn't already, talk to the person to see if it can help.
---