Parents encouraged not to pollute their children's lungs
20 Jun 2019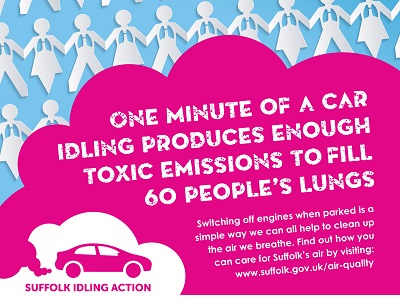 Parents and grandparents are being asked to switch off their engines while they wait outside schools to prevent them from harming their children's health.
Everyday thousands of parents and grandparents drop off and collect children from school – but their actions while they wait could be poisoning their children with toxic fumes leading to asthma and damaging their lungs. That can then impact on their health for the rest of their lives.
Just one minute leaving the engine running while stationary – also known as idling - produces enough toxic emissions to fill 60 people's lungs. Nationally idling contributes to air pollution which Public Health England estimates is a contributory factor in some 40,000 early deaths every year.

That is why today, on national Clean Air Day, West Suffolk Council has announced a district wide campaign to work with schools, with parents, grandparents, councillors and other community leaders to improve air quality and health in West Suffolk.
Cllr Andy Drummond, Cabinet Member for Regulatory at West Suffolk Council said: "We know that one of the places where vehicle idling occurs is outside the school gates while parents and grandparents drop off and pick up at the beginning and end of the day.
"Of course, while it would be better if people walked or cycled to school we have to be pragmatic. For some dropping off children at several schools or heading off to work, their reliance on a car is necessary while we are a rural area which means often people may be travelling from further afield to take children to school.
"We believe that education of those people dropping off and collecting their children from schools is key. I'm sure that any parent or grandparent would be horrified to think of the damage and harm that they are potentially causing to their loved ones."
West Suffolk Council has a statutory duty to monitor the air quality across the district and although air quality in West Suffolk is generally good, the Council is committed to improving this further.
Working with other councils across Suffolk, West Suffolk has produced information packs with posters the school can both display and send home to parents.
It is also looking to work with schools where vehicle idling is particularly bad, where it would hope to engage more directly with pupils, their parents and grandparents and encourage them to pledge not to idle. An air quality sensor will also be used to gather evidence before and after to help understand the impact that this work has on reducing air pollution near the school.
The anti-idling campaign is part of the wider work of the Council to cut carbon emissions and improve air quality. This has included investment in solar energy, electric vehicle charging points and promoting energy efficiency of local homes and businesses.
For more visit www.suffolk.gov.uk/air-quality and www.westsuffolk.gov.uk/environment/
---