Solar farm funds support public services come rain or shine
13 Aug 2019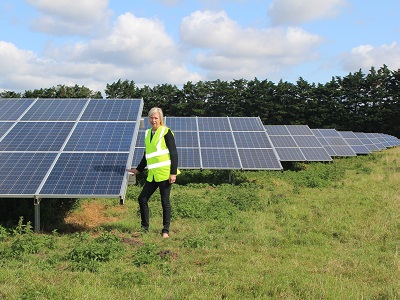 One of the largest local authority owned solar farms in the UK has generated more than £1.5 million of income in its third year.
West Suffolk Council, whose Cabinet has recommended the authority declare a climate change emergency, own the 12.4MW solar farm at Toggam Farm in Lakenheath.
The income it is generating is increasing, meaning that come rain or shine, it is helping fund the day to day council services for residents and businesses, while also making a significant carbon reduction.
The solar farm marks its third anniversary this month and with it comes its best performance raising £1.5million of income - around £100,000 more than anticipated. It also brings the total income it has raised since it was plugged in back in August 2016, to more than £4million.
It generated 12,631MWh of electricity over the last 12 months against a target of 11,591MWh. That electricity sold on and into the National Grid, is enough to power around 3,300 homes and offset the Carbon Dioxide emissions from 1,500 cars. It has also helped West Suffolk Council towards becoming carbon neutral.
After taking into account the operating costs and recouping some of the capital used to buy the solar farm (in case the council needs to invest in other things) the solar farm has generated £560,000 towards the funding of council services. That brings the amount of funding for public services directly from the solar farm in the last three years to more than £1.2 million.
The council expects the income to continue to rise next year, weather permitting.
Councillor Sarah Broughton, Cabinet Member for Performance and Resources at West Suffolk Council, said: "This is just one of the many ways the council is not only successfully reducing our impact on the climate but also creating an income stream to support services and other ambitions."
Councillor John Griffiths said: "Our Cabinet unanimously agreed to recommend the council declare a climate change emergency and have set up an Environment and Climate Change Task Force to explore further practical actions to add to the many we are already taking. We welcome, and are always looking at, opportunities to do more things like this successful project."
At the moment the project is for 25 years but the council can look to extend beyond that nearer the time. The income generated comes from a mix of selling electricity into the National Grid and income guaranteed from the Government for a 20-year-period though renewable obligation certificates.
The solar farm is also popular with local groups and schools to have a look around it and find out about what West Suffolk Council is doing. Groups can book a tour by contacting environment@westsuffolk.gov.uk
---