Crowdfunder success sees community defibrillator for village
01 Oct 2019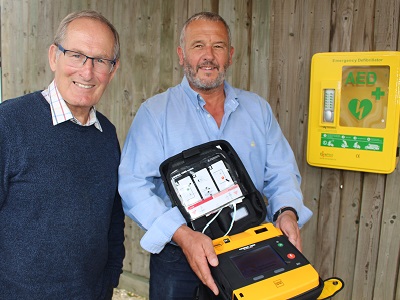 A community defibrillator has been installed in a village centre following a crowd funding campaign match funded by a local councillor.
The site at Church Farm in Barrow houses sports facilities used by villagers and visitors, where there is also a small business park and a church.
The Suffolk Academy Community Interest Company set up a crowd funding page which was supported by businesses in the area including Barrow Gym, Stormafit Leisure, Hammond and Co Accountants, Barrow Archery Club, Suffolk Academy Groups, and Keizerbrink.
The £500 raised has been match funded by West Suffolk Council ward member Cllr Ian Houlder from his locality budget.
Glen Moulds who led the campaign said: "Barrow is a growing community and the facilities at the Academy are used by residents of all ages and well as people from neighbouring villages. We also have local businesses and a church this end of the village which thousands of people use each year for weddings and other services.
"If someone does go into cardiac arrest, use of a defibrillator can really boost people's chances of survival during that early critical time before the emergency services arrive and take over. It make sense to have this vital piece of equipment so close to all these activities for all the people that come here."
Cllr Houlder said: "The Crowdfunding effort to secure this crucial piece of life saving equipment has been immense and I am delighted to be able to support this community led initiative."
---