RAF Lakenheath  Meet The Buyer Event
10 Apr 2019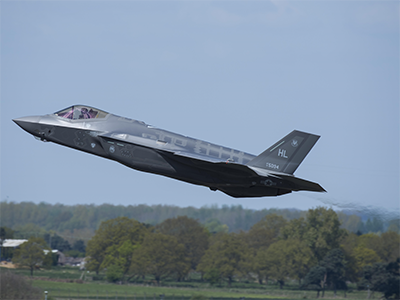 Businesses in and around West Suffolk are being invited to take part in an event to see how they can benefit from a multi-million contract to bring the cutting edge F-35 fighter to RAF Lakenheath.
The Kier VolkerFitzpatrick joint venture (JV) has been awarded a £160m contract to deliver new infrastructure to ready RAF Lakenheath for the first permanent home in Europe of the US Air Force F-35 Fighter Jet.
Throughout the duration of the project, the JV will be engaging with the local community to create new jobs and procure at least 40% of the supply chain within a 75-mile radius of the site.
On Wednesday 17 April 2019, we are inviting our local supply chain to meet with the KVF35 team to explore the possibilities presented by this major defence development. This meet-the-buyer event will promote investment in the local area and encourage local suppliers and contractors to bring their unique skills and capabilities to this transformative development.
The free event welcomes all local businesses and provides the opportunity to meet face to face with key team members from KVF35, West Suffolk Council, West Suffolk College, New Anglia Local Enterprise Partnership and Suffolk Chamber of Commerce.
All partners involved in the initiative are keen that the investment in bringing the new fighter to Lakenheath has benefits for local businesses and communities.
At the height of construction, it is expected there will be up to 700 people on site supporting the programme. A strong local supply chain will therefore be crucial, and the JV team looks forward to engaging in discussions with our community as to how we can best support each other and work together to successfully deliver RAF Lakenheath.
In addition it is expected there will be additional benefits for businesses around the base to support these workers.
Main construction works are set to begin in summer 2019, following extensive enabling works, ready for arrival of the aircraft from November 2021.
---