Should market be reinstated in town?
20 Mar 2017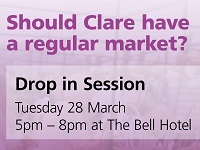 Should Clare have a regular market? That is one of the questions that will be asked of residents and businesses at a drop in event in the town next week.
It was back in the early 1990s that the town's market dwindled out. More than 20 years later a group of businesses and individuals who have an interest and love of the market have asked St Edmundsbury Borough Council to look into the possibility of reinstating it.
Now St Edmundsbury, which already runs markets in Bury St Edmunds and Haverhill, is asking residents and businesses for their views at a drop in event.
Cllr Alaric Pugh is St Edmundsbury's Cabinet Member for Planning and Growth, and represents Clare on the Borough Council. He said: "A strong market with a good mix of stalls can really enhance a town centre, serving the needs of the town's residents as well as attracting more shoppers and visitors. Clare is a fantastic town with wonderful charm and character, but perhaps a weekly or monthly market could make it more special still if, and only if, it had the right mix of interesting stalls and traders. This could even be a good place for new Clare businesses to experiment."
The drop in will offer residents and businesses a chance to say if they are for or against the return of a market to the town. If they are in favour they will also be asked whether it should be a weekly or monthly market and where would be a good location for it in the town.
Cllr Pugh said: "The Town Council has reported that initial feedback from the recent parish survey already suggests that there will be strong support for the market's return and should this happen we want to ensure that it is very successful. With that in mind we will also be asking those attending this event what produce and other items would they like to see being sold on their market, what are their views on opening times and for any other suggestions that they may have."
The drop in event takes place between 5pm to 8pm on Tuesday 28 March at the Bell Hotel in Clare. Anyone unable to attend can give their views by emailing Sharon.fairweather@westsuffolk.gov.uk or telephoning 01284 757093.
---