Bardwell featured on TV Village of the Year 2017 programme
23 Jan 2018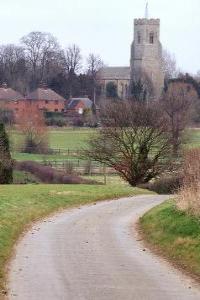 TV star Penelope Keith enjoyed the Good Life when she saw for herself why friendly, active and busy Bardwell was in the running for UK Village of the Year.
The village was featured on the popular Channel Four programme today, Tuesday, 23 January, as part of the South East Region heats.
Although the village didn't go onto the next round it was a great national celebration of its communities and their achievements.
Bardwell Parish Council, supported by local groups, put the village forward for the competition.
It competed against hundreds of other places across the UK to be picked to be visited by the cameras and the stars of the show.
In their bid to be included in the programme the Parish Council highlighted, not only it is a beautiful place to live but the thriving community spirit and activities.
Councillor Peter Sanderson, Chairman of Bardwell Parish Council, said: "We were really pleased to hear that we got through to the regional heats and show the UK how great the village and West Suffolk is. What shone through is that it is not about one group or individual but how the whole community works together to support one another. Bardwell is a thriving village with events and activities on for all ages and abilities. This is also reflected in the pride we all have for our beautiful village with its green, church and windmill. Although we didn't progress to the next round we think Bardwell is a winner."
St Edmundsbury Borough Councillor Andrew Smith, local member for Bardwell, said: "While Bardwell is a great place to live it is the people and neighbourly spirit that really sets it apart. In 2012 the village was winner of the St Edmundsbury round of the Suffolk Village of the Year. The activities for all the family go on throughout the year with residents and volunteers giving their time and skills to help others. Well done to all involved in attracting the cameras to Bardwell and making the village the thriving place it is both today and will continue to be in the future."
---