Armed Forces Day 2019
26 Mar 2019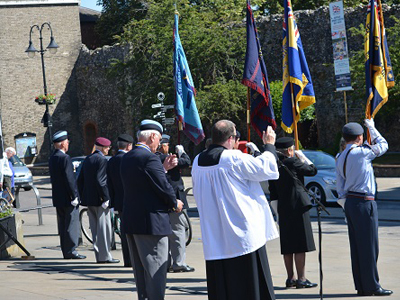 Celebrating 100 years of women in the armed forces
Pop-up Military Market Museum - public call for submissions
In celebration of Armed Forces Day on 29 June 2019, Bury St Edmunds market will host a pop-up museum celebrating 100 years of women serving in the armed forces.
The museum will showcase photos/stories/information/memorabilia and relics relating to women from our region who have served in the armed forces over the past 100 years. The event being organised by artist Lou Gridley, market traders and West Suffolk Council, will be celebrated with music and dress from the 1940s.
We invite veteran servicewomen to come forward to participate in the event and contribute material for our exhibition. We invite families of late servicewomen to share their personal stories and memorabilia with the community. We would love to hear from you and document any of the the following:
Personal stories/written letters/news articles
Photos
Armed services documentation
Audio visual recordings
Uniform
Any other artefacts or information relating to this theme.
We are looking for veteran servicewomen who are happy to be interviewed by local school students as part of the pop-up museum history project If you are a female veteran willing to talk about your time in the armed forces, or a descendent of a servicewoman with stories to tell then we are waiting to hear from you! Please email: art@louisegridley.com 
All contributions will be recorded, archived and subsequently made available to future generations. Contributions are made on a temporary loan basis for the duration of the project. Entries can be submitted in the following formats:
In person: drop off your relics at Moyse's Hall Museum desk (open Mon – Sat 10am-5pm, Sun 12-4pm). Please ensure your contribution is labelled with your name, email, contact phone number. All paper documents/photos will be scanned and returned to you.
Email: Send your scanned documents/photographs to the Learning Heritage Officer at Moyse's Hall Museum: daniel.clarke@westsuffolk.gov.uk
Post: Send your original or copied letters/photos/documents to: Daniel Clarke, Learning Heritage Officer, Moyse's Hall Museum, Cornhill, Bury St Edmunds, Suffolk IP33 1DX
The deadline for entries is Friday 31 May.
---