HERMA UK takes direct action
23 Sep 2019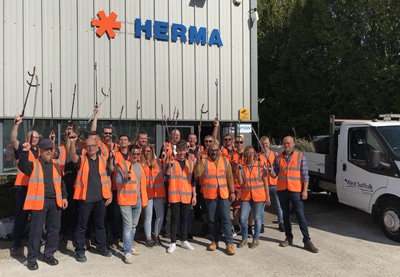 A Haverhill business is proving its environmental credentials by taking direct action.

Employees at HERMA UK, leading manufacturers of self-adhesive label application systems in Hollands Road, made themselves available to spend Friday afternoon litter picking in the local area. The outcome was 27 sacks of waste and a markedly tidier neighbourhood.

Ben Robson, Head of HERMA Labelling Systems Environmental Committee advised, "Earlier this year the new committee was established with the aim of developing the environmental sustainability of the business and ensuring we are able to focus on improvements within our immediate environment. We have already embedded many new processes within the workplace and were happy to take this a step further with the little pick initiative. Support from all departments has been terrific, which I think illustrates our philosophy of getting the job done and getting it done well. This has been a success on many levels and HERMA look forward to holding more events in the future".

Cllr Peter Stevens West Suffolk Council Cabinet member for Operations said
"I congratulate HERMA and its staff for this great exercise and am very happy that we were able to support them with advice, equipment and removal of the litter they collected. The benefits are wide ranging and I invite any organisation wanting to follow their example to get in touch with us so we can do the same.".

 
---