Contract signed on new Barley Homes site for Haverhill
07 Nov 2019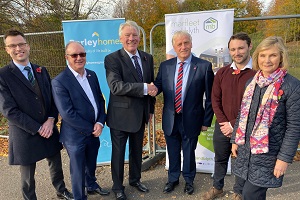 A contract has been signed by Barley Homes and Marfleet and Blyth Ltd to build 37 new homes and improve a redundant site in Haverhill.
The former Westfield Primary School site development will include 30% affordable homes, open space and funding to upgrading the local Railway Walk.
Barley Homes Group Ltd is the housing company owned by West Suffolk Council, established to develop much needed housing as well as wider benefits for the community.
Marfleet and Blyth were chosen following a robust tendering process and, as set out in the business case, are due to start construction on site in earnest in January although residents may see preparatory works in the meantime.
Not only will the scheme bring much needed housing and improve a vacant site in Haverhill but also will bring extra income for West Suffolk Council to help support services.
The Westfield site, off Manor Road in Haverhill, will be the first development for Barley Homes with a site close to the former Castle Hill School also progressing well.
The development will bring funding contributions to the secondary and primary school, library, affordable homes and pre-school provision.
Improvements will also be made to the access to the Railway Walk as well as funding for the maintenance of the open space within the site.
The site will include 37 homes, parking and landscaping - (4 x one bed flats, 5 x two bed flats, 10 x two bed houses, 14 x three bed houses and 4 x four bed houses). With 11 of the 37 homes being affordable.
All homes will also meet the government's guidance on minimum space standards.
Cllr John Griffiths, Leader of West Suffolk Council, said: "This is part of the council's ongoing investment in Haverhill and West Suffolk to provide much needed homes for our local communities. I am really pleased that Barley Homes has signed the contract with Marfleet and Blyth and look forward to work starting shortly and to seeing the first residents moving in."
A spokesperson for Barley Homes Group, said: "We are pleased to be working with Marfleet and Blyth to deliver the first of our developments and provide homes and wider benefits on a site that has been unused for some time. Local councillors and the community have been at the heart of helping to design the site which also includes improving the access to Railway Walk which is a well-used link in Haverhill."
Graham Marfleet Managing Director of Marfleet and Blyth, said: "We are delighted to be given the opportunity to deliver Barley Homes first housing contract in providing housing for the local community."
Local West Suffolk Council member for Haverhill East, Cllr John Burns said: "I am pleased that to see this scheme moving forward to provide these much needed homes and wider benefits for our town. I, with other local councillors, have been working hard to make sure the local community has been part of the process, especially the improvements and upgrading of the Railway Walk. I look forward to welcoming the new owners."
Local West Suffolk Council member for Haverhill East, Cllr Pat Hanlon, said: "Haverhill is a great place to live and I welcome the news that a contractor has been signed up to deliver these new homes. The public have been involved in developing the site which has been left derelict and in need of improvements. This new development will be an improvement and the income will help local services."
---