Sowing the seeds for wildlife friendly village
27 Jan 2020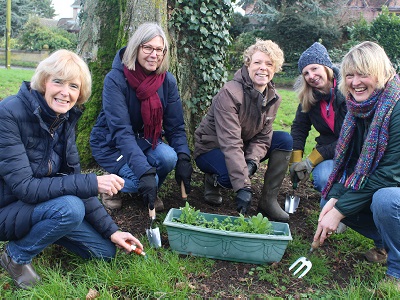 West Suffolk councillor Susan Glossop is backing a community project to turn Risby into a wildlife friendly village.
The Risby Wildlife Group has been set up by local resident Sophie Flux and Risby Parish Council with the aim of bringing together the local community to work to encourage greater biodiversity, and to protect wildlife, plants and trees.
The initiative, which has the support of a number of village organisations and businesses, has received locality budget funding from Cllr Glossop who represents Risby on West Suffolk Council.
Cllr Glossop said: "Not only is this a fantastic initiative designed to bring people of all ages together, it is also improving and protecting the natural habitat. Our own Environmental and Climate Change task force made its first set of recommendations to the Cabinet recently, among them looking at green spaces and biodiversity. The Council already has a responsibility for six parks and nearly 200 other open green spaces across West Suffolk. Anything that we can do to encourage people to get out, to volunteer, make new friends, to plant seeds and bulbs and to look after a local green area can only be a good thing. It shows people taking pride in their local area, it creates new homes for birds, insects and other wildlife, and a healthier environment for us all to enjoy."
West Suffolk Council declared a climate change emergency last year. The task force has looked at both what the Council can do to improve the environment and the role it can play in encouraging others to also play an active role in tackling climate change.
The £730 of budget funding will be used to buy wildflower seeds and bulbs as well as bat and bird boxes.
Mrs Flux said: "The support for this project from local people, groups, businesses and organisations has been amazing and I am really grateful to have Cllr Glossop's backing. The money will be used to support a number of activity days over the coming months. Our next event takes place on 15 February and will look at how residents in Risby can encourage more bees and other pollinators by planting wildflowers."
Chair of the Parish Council, Cllr Derrick Abrey said: "Risby is a fantastic place with a wonderful sense of community. By working together to improve the local environment we can make it an even happier and healthier place to live and work. This initiative has certainly created a buzz around the village, and we hope with such strong support we can encourage more bees, birds and other creatures and demonstrate that Risby really is a wildlife friendly village."
The Wildlife Group is running monthly articles in The Stile village newsletter and continues to encourage more local volunteers to get involved. To find out more/ get involved email sophieflux@yahoo.co.uk Information about the project is also available on the Risby Parish Council website at http://risby.suffolk.cloud/risby-wildlife-project/
---