Cabinet decides on investment and car parking changes
11 Feb 2020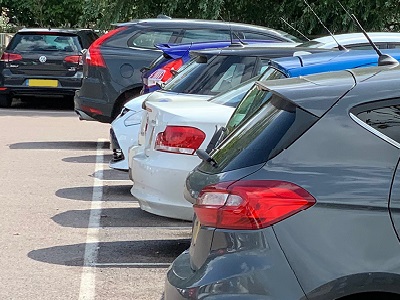 Investment to improve car parks and increase the availability of electric vehicle charging points has been decided alongside changes to parking tariffs.
West Suffolk Council's Cabinet has decided a raft of car parking measures at its meeting tonight (11 February). It also announced its intention to hold a high street summit bringing together partners to look at how they can best work together to address the challenges facing our high streets. Tuesday night's meeting was the first time that the Cabinet has met since last month's publication of recommendations from the car parking review group and subsequent recommendations from the Overview and Scrutiny Committee.
Newmarket has seen growing demand in its car parks with close to 40,000 more events this year, than two years ago. The Cabinet agreed to spend £70,000 on surfacing improvements to three of the town's car parks – Grosvenor Yard, All Saints and Market Square while it will also spend a further £25,000 on making more electric vehicle charging points available.
Free from 3 car parking – which will stay in Bury St Edmunds and Haverhill, is also to be extended to Newmarket. The Council will meet with Newmarket Business Improvement District to discuss the best weekday to run the initiative which is designed to bring in shoppers at quieter trading periods.
In Bury St Edmunds, in response to business requests, Parkway Multi-Storey will offer long stay parking at weekends. Cabinet decided not to extend the daytime tariff from 6pm to 8pm, and to keep the £1 after 6pm evening charge.
A petition for two days free parking was not accepted as it would cost more than £1million to introduce in Bury St Edmunds alone and that would impact on the services in town centres that car parking helps fund including CCTV and street cleaning. A call from the Labour group to cap tariff increases to 10p was turned down on the same grounds. Cabinet had been asked by the Overview and Scrutiny Committee to look at free parking in Bury St Edmunds on Wednesday mornings. Wednesday mornings are, however, the busiest weekday mornings and it was felt that this went against the aims of trying to encourage people in to shop during the quieter periods of the week.
Haverhill will see improved signage and car parking tariffs adjusted to try to encourage town centre workers to park in The Meadows car park, leaving short stay options for shoppers.
In Brandon, Cabinet confirmed it would look to address the car parking capacity issues raised by local councillors, but it would not do so through charges. Instead, to help manage the turnover of spaces, Bury Road will be designated as a short stay car park and people will have to display a free parking ticket.
In Mildenhall, there will be ongoing discussions with the town council which owns and the Recreation Way car park, on how best to manage it, while in Clare there will be continuing discussions with partners on how to address the need for additional car parking to support the growth of the town centre.
Across West Suffolk, there will be more investment in Electric Vehicle charging points. Cabinet recognise there has been an issue with people parking for free in these bays but drawing little or no charge for their electric vehicle. To address this, normal tariff charges will apply to these bays.
The tariffs have also been set to enable the council to absorb the administrative charge for users of RingGo who currently pay an extra 20p per transaction to the mobile phone service, on top of their car parking charges. The council wants to encourage greater use of cashless payment like RingGo where possible.
Cllr Peter Stevens, Cabinet Member for Operations at West Suffolk Council, said: "We are mindful of the challenges facing high streets nationally. This evening we have announced our intention to hold a high street summit which will gather together partners to look at how we work together to collectively address the various challenges on our high streets. We are continuing to invest in our town centres and it is pleasing to note that following our investment in The National Heritage Centre for Horseracing and Sporting Art and in bringing the market back to the High Street, the number of parking events in Newmarket is significantly up for the past two years.
"Equally in Bury St Edmunds, where we led on the arc, a masterplan for the town centre and continue to invest in attractions like The Apex, Abbey Gardens, Moyse's Hall Museum and our markets, nearly all of our 4000 town centre parking spaces are full come Saturday lunchtimes.
"In other words, people are still using our car parks and coming to our towns. It is not just the price of parking that attracts people to a town centre, it is the things that the town centre has to offer including its mix of retail, cafes, restaurants, leisure and culture, heritage, markets and events including those run by the Business Improvement Districts (BIDs). Not only do we work closely with the BIDs but we invest into them and Destination Management Organisations like Bury St Edmunds and Beyond to support their work promoting our towns.
"In Haverhill we initiated the town centre masterplan and have recently invested in three town centre sites. Our parking events are holding steady in Haverhill and are expected to rise.
"Car parking tariffs are a mechanism for managing demand including the availability and turnover of spaces to support the town centre economy. We also recognise that each of our town centres is unique in its offer which is why we haven't got a uniform approach to our towns.
"The income generated from our car parks pays towards town centre services to ensure our town centres are clean and safe places where people want to be. It pays for the maintenance and staffing of our car parks. The council pays close to £1 million of Business Rates on its car parks and is one of the biggest contributors to the Business Improvement Districts and the work that they do to encourage town centre footfall and spend."
The changes will come into effect from in early April.
---