New skatepark breaks ground
08 Jun 2020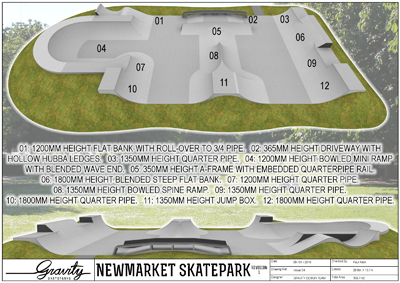 Work on a £150,000 upgrade of Newmarket Skatepark is about to get underway, with planning permission in place and ground breaking due to start on Monday 15 June.
The work programme is expected to take 12 weeks and to be completed by mid-September. The bespoke design developed by young people who use the facility and their preferred contractor, Gravity Engineering Ltd, is a free flowing all-in-one space with a new bowl feature. It replaces an end-of-life collection of steel and timber structures.
The project was initiated in 2017 by young people in the town, who started fundraising the following year and have now successfully secured the cost of the skate park build and are well on their way to raising funding for a second phase to follow on with lighting and security. Sponsorship includes £50,000 and project support from West Suffolk Council, £70,000 from Orbit Housing and further support from Suffolk County Council, Anglian Water and Godolphin.
Although Government restrictions have been lifted allowing skate parks in other towns to remain open, the effect on the construction programme means that the previous aspiration of Newmarket's old skatepark remaining open has had to be reviewed.
In order to comply with social distancing and track and trace, the contractors will be occupying the site full time until completion, thereby reducing the risk of delay due to having to self-isolate. Preparation of the site will now begin on Sunday 14 June when the existing structures are removed, before ground breaking the following day. The concrete base will be lifted for reuse and the area levelled while heavy equipment is on site.
The skatepark on George Lambton Playing Fields is in the middle of the Yellow Brick Road park which serves the town's residential areas and has direct connections to Studlands Park to the north and George Lambton Estate to the east.
Cllr John Griffiths, Leader of West Suffolk Council said,
'I am delighted that everyone who has worked so hard on this project will now see it come to fruition. This is a first for Newmarket, with its young people taking such a large scale project from start to finish. It is of course disappointing that current restrictions mean that attempting to reopen the old skate park as previously envisaged, would jeopardise completion of the new one, but this is a bigger prize. The new facility will  benefit the whole community, bringing with it an upgrade of lighting and security in the area later in the year and giving the park a new focus; and I again offer my congratulations to all involved.
Nick Froy, Principal of Newmarket Academy said,
'I am delighted that the Skate Park has received planning permission. This feels like a massive leap for the students to seeing this project come to fruition. They have worked incredibly hard with the support of the Orbit Housing group, Anglian Water, Godolphin, West Suffolk Council and Suffolk County Council to make this plan come to life and in so doing contribute to the improvement of our town and provide our young people with a skatepark. I am so proud of their vision, commitment and resilience.'
Due to restrictions designed to limit the spread of coronavirus, skateparks and play areas in West Suffolk remain closed at present, although these are being gradually relaxed, while strictly observing social distancing. At present from 1 June) up to 6 people may meet outside, providing they keep 2m from anyone not in their household, and they can play sports such as tennis and football while keeping 2m apart and providing they do not share equipment and wash their hands regularly.
For more information, and to offer support for phase two, contact Will Wright Families and Communities Officer 07775801193 will.wright@westsuffolk.gov.uk
Search our online Planning applications system for planning reference DC/20/0118/FUL
---