Cabinet gives green light to environmental roadmap improvements
24 Jul 2020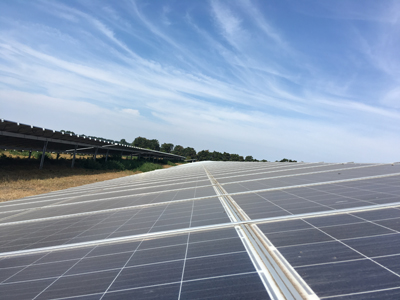 A road map has been agreed of around 50 initiatives to build on the already successful work West Suffolk Council is leading on to tackle climate change and reduce greenhouse gases.
West Suffolk Council declared a climate change emergency and one of the first acts of the new Cabinet was to set up a taskforce to strengthen and move further forward the ground-breaking work the authority is already doing.
Last night, 21 July, Cabinet agreed a series of recommendations made by the cross-council taskforce. This included an ambition of reaching net zero greenhouse gas (carbon) emissions by 2030 in recognition of the importance of tackling the emergency more urgently.
The move to a 2030 target is a major change from the previous aim the council had previously committed to which was a 75% reduction by 2050 and shows the ambitions of the authority. Also included were measures to bring in a carbon budgeting approach to support the net zero ambition.
Cabinet also agreed to add an environmental emergency to the already existing climate change emergency.
The taskforce had suggested alongside the high-level roadmap a list of nearly 50 initial actions to help achieve this to be carried out this year and a programme of initiatives to be considered for delivery in 21/22 and beyond.
West Suffolk already has a good track record of on reducing its impact on climate change and has been monitoring this since 2010.
This year it has planted 1,500 trees and plants (1,000 of those since Christmas). Since 2010, Greenhouse Gas Emissions have fallen by 30% and the council now recycles 54 per cent of its office waste. The council owns one of the largest local authority solar farms in the UK, a 12.4MW facility delivering energy to the National Grid. In May 2020 it produced 2007MWh of electricity –the equivalent of powering 600 homes for an entire year. In addition, it works with businesses to reduce their carbon footprint and use renewable energy which is also installed on council offices.
In addition, five of the council's parks have achieved national Green Flag status awards and the council continues to generate renewable energy – power and heat – at many of its sites. At Nowton Park in March, the council has procured electrical equipment to replace petrol driven items that had reached the end of their useful life. The new equipment is lighter to haul and quieter.
The authority is also reducing the amount it cuts on verges and increasing the use of plants that help pollinators, so important as we seek to improve biodiversity across West Suffolk.
The task force looked at a range of actions and opportunities across the themes to meet the target for greenhouse gas reduction, improving air quality, environment and biodiversity. These range from initiatives the council can do such as reducing fossil fuel use for its tools, buildings and vehicles, reducing single use plastic and creating more green spaces and encouraging transport options. It also looks at how the council can engage with the wider community and partners to encourage people to do their bit to reduce their impact on climate change as well as protect the environment, including biodiversity.
The themes and measures includes:
travel and transport – for example moving to alternative fuels, route optimisation for waste vehicles and installing more EV charging points
use of renewables – increasing council's investment in renewables and continuing to support businesses to install solar on their premises
housing (including planning)- for example identify rented properties that fail Minimum Energy Efficiency Standards (MEES) and ensuring properties are brought up to standard as well as using the local plan process to improve the environmental performance of new homes
green spaces and biodiversity - for example develop a West Suffolk Wide Green Infrastructure Strategy (GIS) which will include identification of opportunities for restoration, biodiversity net gain and ecosystem services. Review the maintenance regimes of grass areas owned by the council in order to increase biodiversity
waste and recycling – continue to work to reduce waste, increase recycling and address litter.
Working with the community on these initiatives will be hugely important so a range of activities are proposed including creating a Greener Homes forum and continuing to work with partners and community groups to improve air quality.
A list of the longer term initiatives and the taskforce's findings can be found at: CAB/WS/20/045 - West Suffolk Environment and Climate Change Taskforce – Final Report
Councillor John Griffiths, Leader of West Suffolk Council, said: "One of the first initiatives I set up when West Suffolk Council was formed last year was to set up a taskforce to look into what more we can do with regard to climate change. We already have a strong track record on reducing our impact on the climate which has seen real and positive results and made us a national leader in areas such as energy from solar; and even during lockdown we carried on with initiatives such as planting another 1,000 trees. But more can always be done, and this green roadmap will build further on our work in West Suffolk with a number of measures and initiatives to further tackle climate change and protect our environment. Specifically, it will help us in our aim of reaching net zero greenhouse gas (carbon) emissions by 2030 and underline the importance of tackling the emergency more urgently. I would like to thank all councillors and officers who have worked so well and hard on this cross-council taskforce and report."
---