Worried about money? Then don't put it off. Talk
28 Jul 2020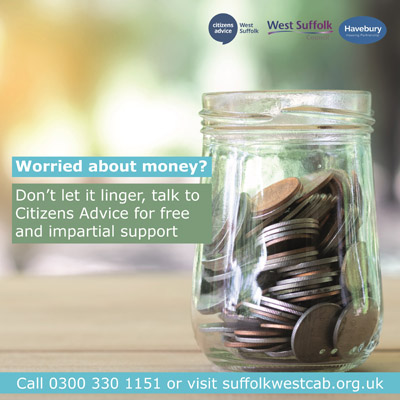 The coronavirus crisis has led to people losing their jobs or seeing a fall in their income – but free and impartial advice is only a call away.
West Suffolk Council, Havebury Housing Partnership and Citizens Advice West Suffolk have teamed up to urge residents to seek help early on, rather than letting problems build up or turning to unscrupulous money lenders.
Leader of West Suffolk Council, Councillor John Griffiths said: "If you're worried about money, you are not alone. While we have been working hard to support businesses and residents as best we can, we have all started to see in the national and local news, job losses resulting from the coronavirus crisis, and sadly we anticipate more will follow as the furlough scheme comes to an end. Equally we know many people who are self-employed and those who fell outside the criteria of Government support, have seen huge cuts to their income.
"Fortunately, we have been investing in and working with the fantastic Citizens Advice service in West Suffolk for a number of years. Our message to residents who are struggling is don't put off speaking to them. Citizens Advice offer free, impartial advice designed to help stop people further increase debts and they will explain the various options available to help."
Amy St Ledger, Assistant Director of Customer Services at Havebury Housing Partnership, said: "We are pleased to support this campaign alongside West Suffolk Council and Citizens Advice West Suffolk. The mental and financial welfare of our tenants is really important to us and we are working proactively to provide as much financial information and benefit advice to support our tenants during this time.
"Local councils, housing associations and Citizens Advice services are all working collaboratively to ensure people who are struggling financially, know that they are not alone and there is free support and advice available to them if they need it."
Jane Ballard, District Manager at Citizens Advice West Suffolk which covers Brandon, Bury St Edmunds, Haverhill, Mildenhall and Newmarket said: "We are glad to be working in partnership with West Suffolk Council on this initiative to provide money advice and help with debt problems to people who may be struggling to manage.  We are keen to provide help to people as early as possible, particularly where household income and circumstances may be changing.
"There are many who will have put increasing levels of debt on one side during the last few months, so they could focus on getting their families through the period of lockdown. Talking to us can help reduce the stress that this may be causing people.
"We operate a holistic service and can help with other issues that may have an impact on debt, as well as maximising income, ensuring that people are aware of the financial help that is available and reviewing their household budget to manage debts. 
"At Citizens Advice our advice is free, confidential and quality assured, and we have dedicated money advisers to help people through this process."
You can call Citizens Advice West Suffolk on 0300 330 1151 or visit their website at www.suffolkwestcab.org.uk
---