Residents plug into lampposts to charge their car
07 Sep 2020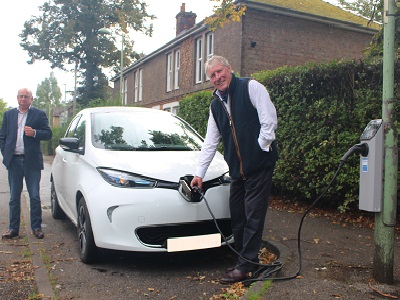 Electricity from streetlights is being used by residents to recharge electric vehicles outside homes, as part of a new trial by West Suffolk Council.
The innovative scheme, part of the Council's continuing work to protect the environment and reduce the impact on climate change, is supported by the Office for Low Emissions (OLEV) and Suffolk County Council.
West Suffolk Council has invested £11,400 in the project and secured £34,200 of Government funding from OLEV. Suffolk County Council, which manages the streetlights, has given its approval to the scheme which will not impact on the performance of the lights.
The scheme has initially seen 22 charging points installed on lampposts across West Suffolk. The Council has written to residents in the area who can register to use the chargers and pay for the electricity they draw.
Their use at each location will be monitored and if there is a need identified elsewhere, the Council can either apply to OLEV for more funding for additional charge points, or it can relocate any that are being underused.
Cllr John Griffiths, Leader of West Suffolk Council said: "This is a trial scheme but we look forward to embracing more initiatives such as this. Friends of the Earth named West Suffolk as one of the top areas in the UK for tackling climate change and supporting the environment late last year but we recognise more must be done.
"We recorded a 45 per cent drop in air pollution during lockdown, and while we recognise this is because people had to stay at home, we are keen to keep the environmental and health benefits of improved air quality. While we will continue to encourage people to walk or cycle or make other changes were possible such as working from home, West Suffolk is a rural area and people will still need to use their car for some journeys.
"By working with our partners, we are improving the EV infrastructure to give people more confidence to switch to EV or hybrid vehicles, cut pollution and help both the environment and our health. Earlier this summer, we brought an EV rapid charger to Newmarket, our second in West Suffolk.
"The streetlamps trial, we hope will make EVs even more of a possibility for residents and, if successful, we will look at how we take this forward into other parts of West Suffolk."
West Suffolk Council already operates EV chargers in many of its car parks including Rapid Chargers, capable of significantly recharging an EV in 30 minutes, in Bury St Edmunds and Newmarket.
Earlier this year, Cabinet announced it was committed to investing in more EV charging points across West Suffolk
EVs are recognised as being cheaper to run than petrol or diesel, they are better for the environment and in turn better for the national economy. EVs deliver a significant reduction in pollutants such as nitrogen dioxide as well as reducing carbon emissions compared to petrol or diesel vehicles, both per mile and over the life cycle of a vehicle including production. By switching to EVs people are helping reduce air pollution which in 2017, Public Health England said cost the country £42.88 million in health and social care costs.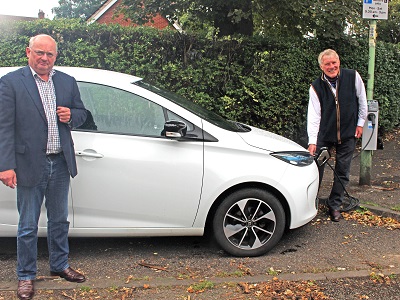 Councillor Andrew Reid, Cabinet Member for Highways, Transport and Rural Affairs at Suffolk County Council, said: "I am delighted that Suffolk County Council's street light columns have been able to facilitate on-street electric vehicle charging points. 
"We now have the right infrastructure in place so electric vehicles can become a real possibility for Suffolk's residents and businesses who do not have a drive way or garage.
"I would very much welcome further charging points being rolled out in other areas in Suffolk as part of Suffolk County Council's carbon neutral by 2030 action plan."
All of the locations have been selected are where off-street parking is not available and where lampposts are suitably located at the kerbside.
Two of the charge points have been placed in Exning in response to local requests, while four have been installed in All Saints Car Park in Newmarket which is used by residents at night-time and offers 24-hour access. The remaining 16 have initially been installed in Bury St Edmunds in Spring Lane, Out Westgate, Eastgate Street and the Southgate area.
Nick Harvey, Senior Programme Manager at Energy Saving Trust added: "We welcome the news that West Suffolk Council's chargepoints funded by the On-Street Residential Chargepoint Scheme are now live and being used. With a further £20m funding available for charging infrastructure this financial year, I'd strongly encourage local authorities to apply. This scheme offers many benefits in the continued support of the uptake of electric vehicles."
---