One hundred per cent renewable electricity for West Suffolk Council
29 Sep 2020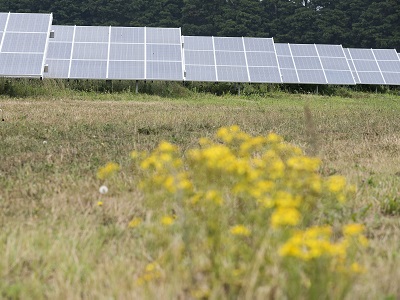 Renewable energy sources will be used to generate 100 per cent of the electricity to West Suffolk Council's buildings, under a new contract starting from 1 October.
West Suffolk Council has signed up to a two-year-contract with Ecotricity, a 100% renewable electricity supplier, with an option to renew when the contract finishes.
As well as the council's offices, the contract also includes supply to council operated cultural attractions such as The Apex, Moyse's Hall Museum and West Stow Anglo Saxon Village.
The contract is part of the council's ongoing commitment to addressing climate change and will help towards its aim of achieving net-zero emissions by 2030.
Councillor John Griffiths, Leader of West Suffolk Council, said: "We are committed to making positive changes to help our environment here in West Suffolk. By way of just some examples, we have already invested in one of the largest council owned solar farms in the country. Through our Solar for Business scheme, we are also helping companies and community buildings reduce carbon emissions, save money on energy costs, and generate a small level of income towards public services.
"We have been actively improving the infrastructure for electric vehicles to help reduce the level of toxic emissions produced on our roads with rapid chargers in three of our towns, a pilot scheme whereby residents can recharge their ev overnight from chargers on lampposts near their house, as well as chargers in many of our car parks. Through our partnership with schools and community groups, we have also been working to encourage motorists not to leave their engines running while parked as this can lead to harmful emissions.
"We have in addition installed renewable heating such as ground source heat pumps at West Stow Anglo Saxon Village and at The Mildenhall Hub, and we encourage residents to make their own homes more energy efficient, supporting &them to do this through the Warm Homes Healthy People scheme which includes grants.
"Friends of the Earth named West Suffolk as one of the top areas in the UK for tackling climate change and supporting the environment late last year but more can always be done which is why on Clean Air Day next Thursday (8 October) we will be inviting West Suffolk residents to pledge their own actions on how they might make further changes to help improve our environment. Watch this space.
For more on the environmental work of the council visit www.westsuffolk.gov.uk/environment
---