Make the #MyPlanetPledge this Clean Air Day
08 Oct 2020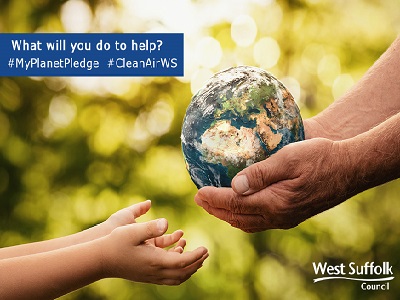 Residents in West Suffolk are being asked to make a #MyPlanetPledge on what actions they will take, as part of the national Clean Air Day on Thursday.
Earlier this year, West Suffolk Council, which monitors air pollution, reported that there had been a 45 per cent drop during lockdown.
All this week, West Suffolk Council will be running a social media campaign using the hashtag #CleanAirWS to highlight the dangers of air pollution in terms of its impact to health, and through it the tens of millions of pounds that it costs the UK economy in care as well as lost working days. It will also tell residents about some of the work of the Council to address this, and what people can do to help.
Cllr John Griffiths, Leader of West Suffolk Council said: "We have the Gaia exhibition currently on at The Apex where residents are quite literally being offered a different perspective as they look at the World we all call home. We also know that most of our residents recognise that both locally and nationally, action needs to be taken to reduce pollution as well as tackling climate change.
"Some of that action is about the changes that the Government can and will bring in nationally. Some of it is about the work West Suffolk Council is already doing locally, for example  investing  in renewable energy, the environmental grants and support for residents and businesses, Electric Vehicle infrastructure, and educational campaigns around simple things such as switching off your engine when parked and waiting.
"And some of it is about actions that we can all, as individuals can take personal responsibility for. It is really only by us all working together that real change can best be made. And that's why I would encourage everyone to make the My Planet Pledge."
The #CleanAirWS thread will advise residents what steps they can take to cut pollution while travelling on their daily journeys, as well as at home through heating and energy efficiency. It will also direct them to the support and grants that are available such as the Greener Business Grant, the Solar for Business Scheme, Warmer Homes Healthy People, and the Green Homes Grant.
Follow the thread on Twitter @West_Suffolk and Facebook @WestSuffolkCouncil
You can make the pledge at https://www.smartsurvey.co.uk/s/cleanairws/
---