Christmas 2020 bin collections
30 Nov 2020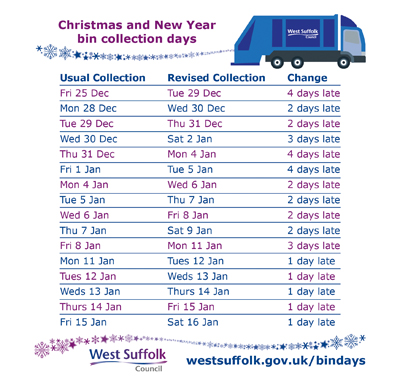 The delay is due to bank holidays over the festive period. West Suffolk bin crews will be working Saturdays during the period to catch up and residents are asked to help by checking which day to put their bins out.
Councillor Peter Stevens, Cabinet member for Operations said,
'All bins will be collected late and we ask residents to check their own bin days and those of any family or neighbours they are supporting. The information is at https://www.westsuffolk.gov.uk/bindays. We are widely sharing a calendar on social media, through parish magazines and websites, and with community networks. In the interests of COVID-19 safety, we are not asking bin crews to put leaflets under bin lids, which involves removing PPE.'
Advice on managing waste and recycling over the festive season is also on the West Suffolk Council website - Recycling and recycling centres
Natural Christmas trees can be cut up and put into garden waste bins or taken to Household Waste Recycling Centres (HWRC). St Nicholas Hospice is running a collection scheme. Household Waste Recycling Centres are closed on bank holidays, but are open 9am to 4pm every day except Wednesday. Find your nearest HWRC at Suffolk Recycling - Recycling centres
Residents are being asked to make sure glass does not find its way into blue or black bins, but is recycled at a local bottle bank. You can check your nearest bottle bank on Find my nearest, and you can report any full bottle bank on 01842 820 804.
Councillor Stevens continues,
"The support our bin crews have received from customers over the past few months has been uplifting, and on behalf of them and all in West Suffolk's Waste and Street Scene Service, I wish you a healthy and peaceful Christmas and New Year."
---