Weatherby and Cattishall foot crossings saved
02 Dec 2020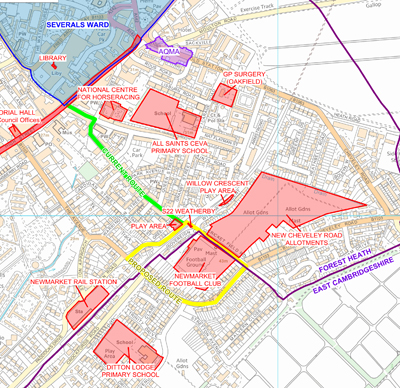 The Secretary of State has found that four West Suffolk rail foot crossings should be saved from closure, two years after the original public inquiry.
Network Rail had moved to bulk close a number of pedestrian rail crossings across the county including Weatherby crossing in Newmarket, Higham and Higham Ground Frame between Barrow and Newmarket and Cattishall crossing to the east of Bury St Edmunds.
The Planning Inspector's findings now published by the Secretary of State, find that all four West Suffolk foot crossing closures should be removed from the Network Rail order.
The Planning Inspectorate held a public inquiry into the matter in 2018. Suffolk County Council and West Suffolk Council together retained the services of a barrister to contest the closures, while the Ramblers Association was among others objecting.
Councillor John Griffiths, Leader of West Suffolk Council said,
'I am delighted with this outcome, which was built on knowledge of the impact closure would have on local people's lives. In these days of sustainable travel, we successfully argued that the distance and gradient of the proposed diversionary route in Newmarket was too far and too steep and would oblige people to get back into the car. The Cattishall crossing gives access to open countryside for Moreton Hall residents, and a brand new development has also been planned around it.'
Councillor Alexander Nicoll, Deputy Cabinet member for Transport at Suffolk County Council said,
''I welcome this outcome and credit much of its success to the united front shown by Suffolk County Council and West Suffolk Council.
'Our focus on sustainable travel includes the rail network as well as cycling and walking. Closing these pedestrian crossings reduces opportunities to make sustainable travel choices which I believe people increasingly expect to be given.'
The status of the Weatherby crossing was explored at 2018 inquiry, but whether or not it is a public right of way fell outside its scope and the matter remained to be resolved. Suffolk County Council, which maintains the definitive map of public rights of way, was supportive of including it, but Network Rail has objected and a further public inquiry was held in October 2020 led by Newmarket Town Council leading, with West Suffolk Council supporting this action and contributing to legal costs.
Councillor Mick Jefferys, Mayor of Newmarket said:
"This is reward for the considerable efforts of the town council and other individuals, notably Rachel Wood, to put the case for keeping the crossing open. Now we must fight on to ensure that the footpath continues to be a public right of way."
---